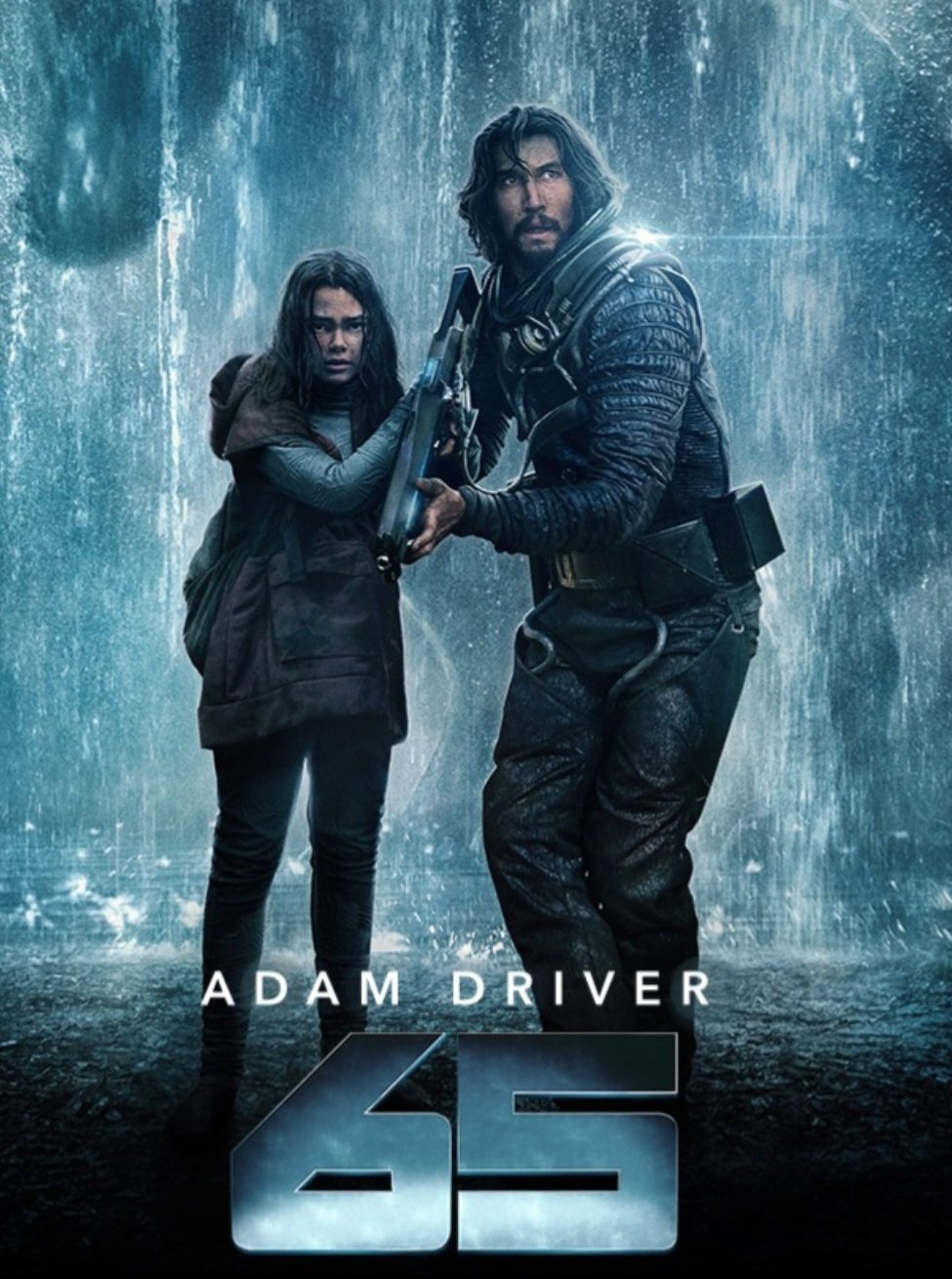 Review
65 (Action, Adventure, Sci-Fi) (2023)
Director: Scott Beck, Bryan Woods
Writer: Scott Beck, Bryan Woods
Stars: Adam Driver, Ariana Greenblatt, Chloe Coleman, Nika King
---
During a lucrative space expedition, an astronaut and his vessel crash-land onto an unknown planet, unable to relay a distress signal. Stuck with slim survival chances, the spacefarer and his companion subsequently try to reach a functioning escape shuttle that landed on a nearby mountain.

Co-directed by Scott Beck and Bryan Woods, "65" sees a father commit to a dangerous journey to return to his wife and daughter. The pair is primarily known for co-writing John Krasinski's "The Quiet Place" and its sequel before presenting this expensive sci-fi endeavour. Most was filmed across Louisiana in the Kisatchie National Forest as well as parts in Oregon. It has been produced by Colombia Pictures, Bron Creative, TSG Entertainment, and Raimi Productions alongside the director's production company Beck/Woods, and it has been distributed by Sony Pictures Releasing.

Living on a planet named Somaris with his family, an astronaut called Mills (Adam Driver) frequently makes voyages to afford medical treatment for his daughter Nevine (Chloe Coleman). His latest expedition, planned as a two-year journey, goes awry as his ship, the Zoic, collides with an asteroid field, making them crash on an alien planet filled with dangerous wildlife. Mills and a young girl called Koa (Ariana Greenblatt) are the sole survivors trying to reach the only functioning escape shuttle, which landed on a mountain nearby.


With the experiences of writing for the successful horror franchise "The Quiet Place", Beck and Woods deliver an action-packed sci-fi undertaking with a determined Adam Driver and his younger cohorts of Ariana Greenblatt and Chloe Coleman.

Framed by a father's plight to provide for his ailing daughter, "65" uses initial drama to push through a dinosaur-ridden hellscape scenario. Driver's uncomplicated presence as a father figure guides Greenblatt's Koa, who's only able to speak fragmented sentences in English. Visuals provide decently, while not particularly unique. Thematically we see reminiscence to the "Predator" and "Alien" franchises but with less engaging characters and a setting providing only inconsequential diversion.


At heart, there might be factors to the Beck and Woods script that could proficiently confront the audience positively. However, potential falls short, and there's never ample drive to capture interest despite a noticeable growth in Coleman's competence as a young actress compared to past roles. Narrative motivation becoming a mere afterthought in minutes doesn't provide the most confidence and honestly makes one doubt if this shouldn't have been left as an elevator pitch. "65" relatively quickly turns out blander than an unsalted potato.

The plot of the story lacks a precise definition and character; it should've hooked the viewer in the early minor plot twist, at which point it already feels deflated. For something with as noticeable of a budget as this, and experienced writers, it lacks emotional tonality and becomes an adventure even Gandalf wouldn't bother guiding a band of hobbits through.
---
Verdict
Not even worth a 6.5.
4,0