Review
Alcarrás (Drama) (2022)
Director: Carla Simón
Writer: Carla Simón, Arnau Vilaró
Stars: Jordi Pujol Dolcet, Albert Bosch, Anna Otin, Ainet Jounou
---
Owning an orchard near a picturesque Catalonian village, a family is faced with the development of solar panels, making their future in agriculture far from certain.

With Alcarrás, Carla Simón provides a familial tale spoken entirely in a Western Catalan dialect. Her film was featured non-competitively at film festivals around the globe. It has been produced by Avalon PC, Elastica Films, Vilaüt Films, Kino Produzioni and TV3 while being distributed by Avalon DA and Elastica Films in Spain, and I Wonder Pictures in Italy.

When an orchard-owning family is pressured by the installation of solar panels near their property and further plans encroaching on their land, Patriarch Rogelio (Josep Abad) struggles as the gentleman's agreement he once struck with the late father of the man threatening his plot seems nullified. Meanwhile, Quimet (Jordi Pujol Dolcet) loses himself in the harvest, dead set in his ways and quick to anger.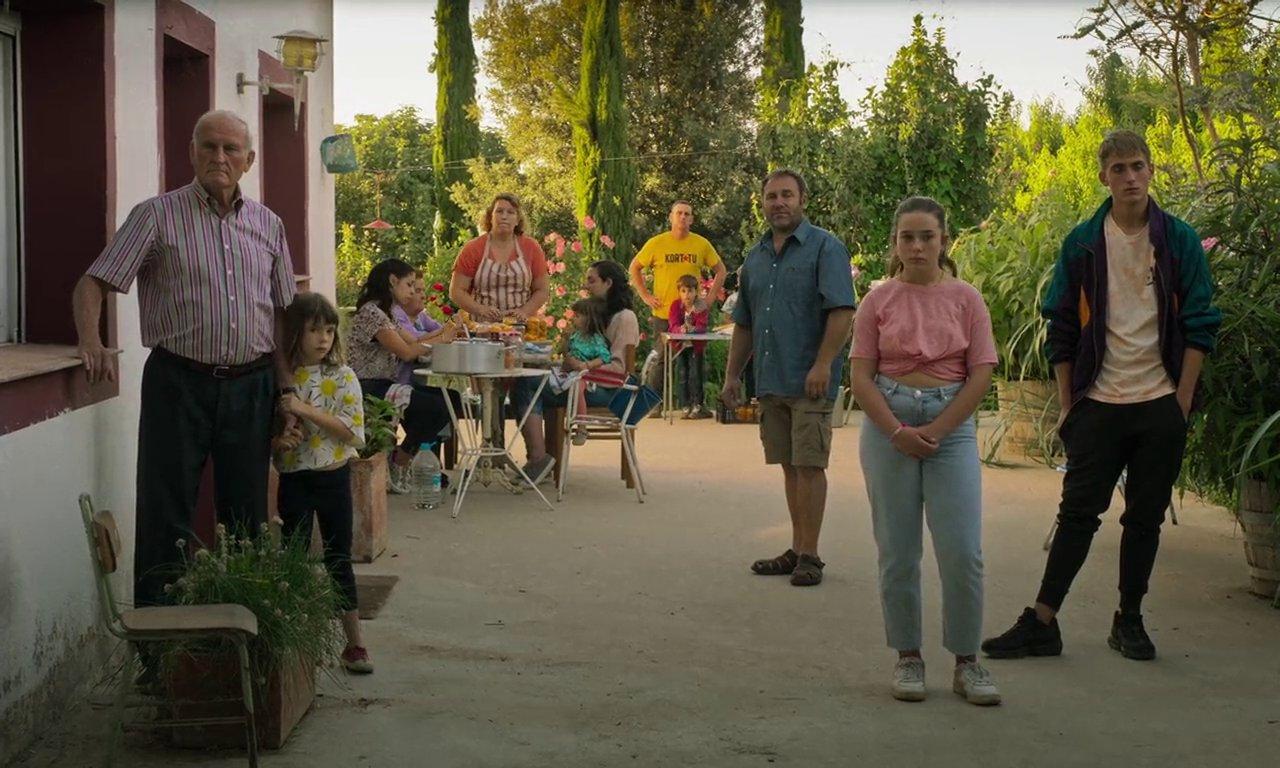 Facing an authentically real dilemma, family orchards and local farms being replaced by supposedly eco-friendly projects, ''Alcarrás'' shows us the stresses of a family due to a confrontation that threatens their rural, agricultural lifestyles.


As the orchard of peaches stretches the horizon, the family tree remains larger. ''Alcarrás,'' under the vision of Simón, has aspects of home video, featuring actors without any prior experience providing genuine and relatable cinematography in a way not easily achieved by trained actors.

The family-oriented narrative brought forth, filmed without many bells and whistles, passes with decent acting, spectacular considering the lack of professional experience. Further development of each household member is lovingly done with mere snippets highlighting their behaviour and morals so assumptions can be made without overdoing it directorially, developing each logically without being forceful.

Different aspects within the narrative are neatly wrapped-up, presenting as bright and clear with a sense of nervous anticipation, trembles of future events drawing closer. While this gradual build-up provides conscientious advancement, the length seems needless, and the reasonably shallow, transparent plot makes it a challenging film to digest and get into. It might be an intriguing endeavour for those pining for a family-focused drama lacking excessive violence, nudity, and such.

Uncovering modern struggles in a traditionalistic setting with abundant family drama felt fairly well-done. Simón has provided a structurally sound project, a reflection on genuine issues with modern development, being exactly where it shines. It's a harsh confrontation of reality, easy to forget, especially for those inhabiting concrete jungles having lost any connection to nature's bounty.
---
Verdict
A succulent fruit, not quite ripe.
7,8