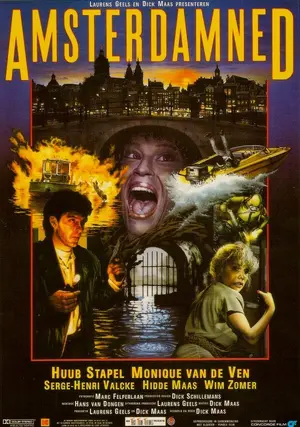 Review
Amsterdamned (Crime, Horror) (1988)
Director: Dick Maas
Writer: Dick Maas
Stars: Huub Stapel, Monique van der Ven, Tatum Dagelet, Hidde Maas
---
Deep within the canals of Amsterdam, a murderous diver is on the hunt. Police detective Eric Visser (Huub Stapel) is tasked with tracking down the heartless killer and bringing him to justice.
As Dick Maas' response to the American slasher sub-genre comes Amsterdamned. Much like the serial killing American counterparts, the murderer's identity is disguised by an outfit, in this case, a diving suit.
With the first murder quickly out of the way, establishing the genre of the film, Maas takes his time to introduce Visser as a divorced single dad caring for his daughter. Then furthermore introducing several other characters to work their way into the plot and perhaps, more importantly, creating suspects to keep the viewer guessing, standard but effective for a thriller/crime. The tense thriller vibes and shocking murders are offset by a humorous vibe and some exciting action scenes, all done by Stapel himself.
The Dutch capital is used primarily as a gimmick taking full advantage of the canals for the murders and creating hazardous and tight surroundings. Despite the gimmicky tendencies, I mean, even the title makes use of it. Amsterdam feels like a subtle backdrop, making sense as if the movie could've been filmed anywhere else despite fully knowing it couldn't. Well, Venice is a good shout or New Orleans. Amsterdamned, never having had one, could be perfect for a modern iteration or sequel, using a copycat somewhere else in the world; that's how much promise it shows.
Like any movie, it isn't perfect, with some plot holes and moments that are just too unrealistic even for a slasher. With an ending that explains a bit of the killer's background story that is close to ruining the script.
While I wouldn't call most Dutch movies excellent due to the often choppy and cringy acting, Amsterdamned is undoubtedly a cult classic in Dutch cinema history amongst some of Maas' other work like De Lift, Quiz and the Flodder franchise.
---
Verdict
Well, I'll be Amsterdamned to say I actually enjoyed it.
6,9