Review
Athena (Action, Drama) (2022)
Director: Romain Gavras
Writer: Romain Gavras, Elias Belkeddar, Ladj Ly
Stars: Sami Slimane, Dali Benssalah, Ouassini Embarek, Anthony Bajon
---
After a young teenager passes away after being severely beaten by the police, one of his brothers leads a press conference attempting to calm nerves. It's abruptly disrupted as another brother, with a band of youth in tow throws a Molotov, stealing police equipment and a vehicle fleeing to their apartment community complex.

Premiering at the Venice International Film Festival, Romain Gavras stages an explosive showing that invokes a deeply resonating reaction. Political and societal pressure are palpable and which side you stand on could impact opinion on such a movie. The production and filming seem as intense as the final product capturing something unique. It was filmed in Paris at the Évry-Courcouronnes suburb and produced by Iconoclast and Lyly Films while distributed by Netflix.

As a result of police action, 13-year-old Idir passes away in the hospital due to injuries sustained from a violent beating. His elder brother Abdel (Dali Benssalah), a French/Algerian soldier, speaks in a press conference, trying to settle unrest among the public. This attempt is soon thwarted as another brother in Karim (Sami Slimane) accompanied by youths from his banlieue tosses a Molotov cocktail towards the podium inciting a riot between them and law enforcement making their stand at their complex Athena.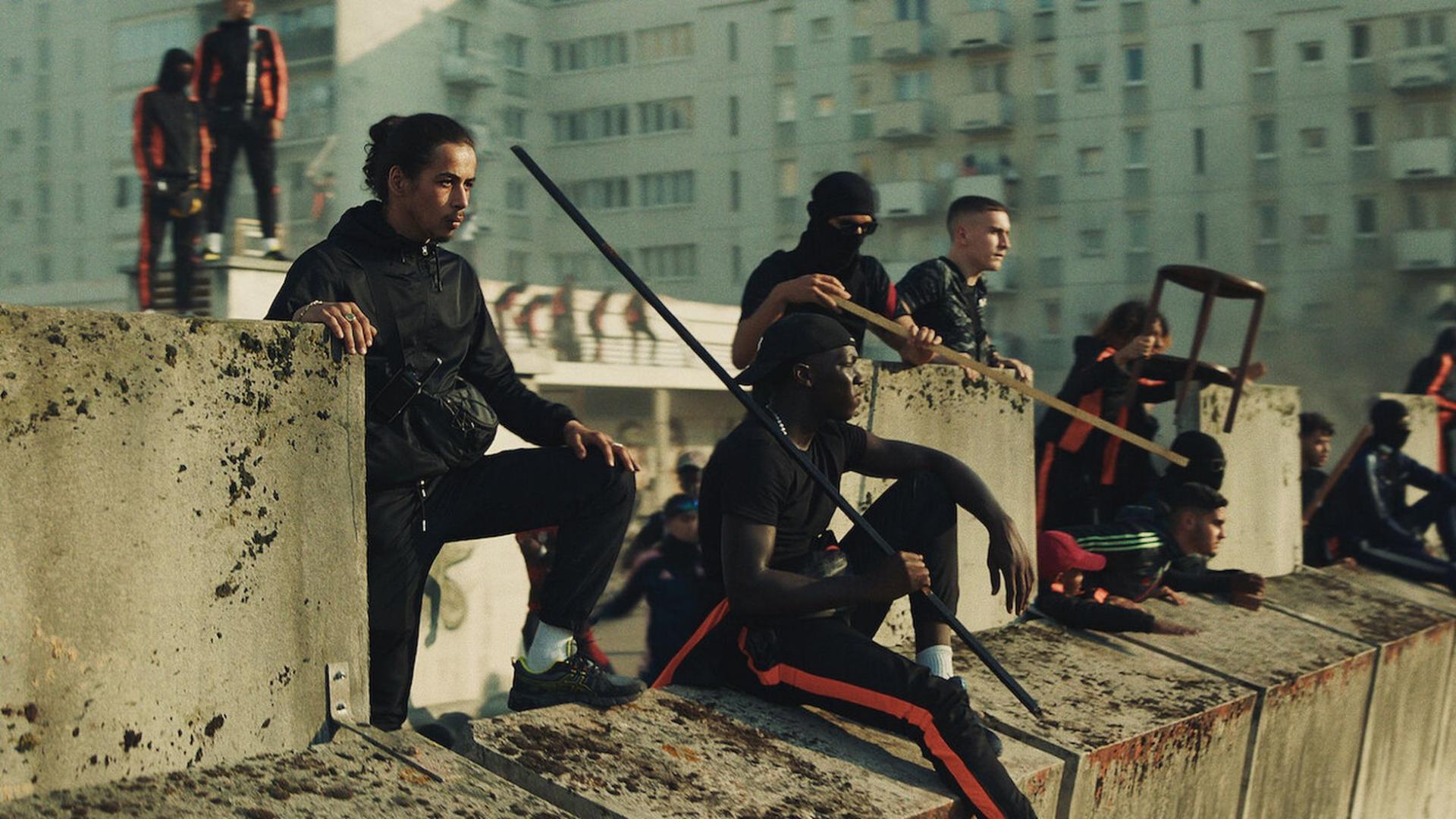 Violent yet, morally questionable, we're thrown into a volatile powder keg. Gavras and his writers approach a major fictional riot in excessive detail. As if a film crew was actually in the middle of such an event showing immense aptitude for his craft and providing a look at elements of riots and the human spirit.

Mere seconds into the film, with Benssalah's Lieutenant Abdel providing clarity on the narrative situation there's limited time to provide an early insight, Slimane's Karim makes the attempt by his brother impossible and a series of sequence shots ensue. Between Abdel, Karim and Embarek's Moktar insights into the events leading to Idir's death are given and their responses show exactly who they are, unravelling their primal state and forcing further hostility to unfold.
Due to the manner of filming, and powerfully fierce performances ''Athena'' is most effective. There's a structure within the use of these brothers, further giving attachment to the situation and portraying a siege in modern times, not unfamiliar to France, and Paris specifically. Where Gavras' picture gets problematic for some, is which message it sends. For eternity, since the advent of violence in media, extremity has been blamed on these mediums, yet what inspired this director is likely exactly what was happening before his film was made. But, in a sense ''Athena'', specifically because of the intensity there's a point of either being enthralled by the violence or commenting on socio-political issues through visual storytelling instead of promoting or inciting it.

In theme ''Athena'' seems unexplored, perhaps exactly due to the observations brought with it. These supposed instigations are disrupted by moments of drama seldomly seen, especially the intense emotion by certain individuals highlight the most important aspects of the script, afraid to lose humanity in an unavoidable conflict. There could've been more mindfulness, especially Bajon's Jérôme felt underserved and action sequences appear to overshadow a heart-on-sleeve story.

If Gavras' perceptive views were further established, I see bright future films here. Creating more opportunities for inventive depth, pulling similar performances and technical skills. Often Netflix is over-flooded with mediocre impressions of genre, if you see anything on the streaming platform this year, make sure it's ''Athena''.
---
Verdict
Even when simmering, there's an unconquerable event felt around the corner.
8,1