Review
Battle for Sevastopol (Drama, War, Romance) [True Story] (2015)
Director: Sergey Mokritskiy
Writer: Sergey Mokritskiy , Maksim Budarin, Max Dankevich, Leonid Korin, Egor Olesov
Stars: Yuliya Peresild, Nikita Tarasov, Polina Pakhomova, Evgeniy Tsyganov
---
As WWII breaks out, "Battle for Sevastopol" follows Lyudmila Pavlichenko, a young student who turns out to be an extremely talented sniper. Her story is one of pure talent, heartbreak and undying loyalty to her country.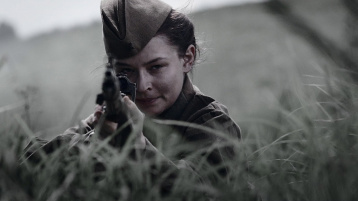 Battle for Sevastopol is a Russian/Ukrainian co-production made in times of high political tension between the two countries. It's an attempt to create a most faithful biography of Pavlichenko's life and the hardships she endured defending against the Nazi's in the Second World War. Lyudmila Pavlichenko, nicknamed "Lady Death", is credited as the most successful female sniper in recorded history with a headcount of 309 confirmed kills.
Before the days of WWII, Lyudmila Pavlichenko (Yuliya Peresild) and her best friend Masha (Polina Pkhomova) are both studying in university, and along with some other friends they decide to visit the shooting range. While there, they discover Lyudmila's immense talent in marksmanship which doesn't go unnoticed. There are some oversights within the backstory, the fact that Pavlichenko was already married, and she had a shooting range membership. Despite this, it works within the film's narrative as it should, that is, a narrative with many chronological shifts, however, as we go from before the war to press conferences in the White House. The scenes' order makes things difficult to follow, that's without admitting the horrendous subtitles I had to follow, and most dialogue might've been lost in translation. The Russian overdubbing over the White House sections where Pavlichenko was introduced to Eleanor Roosevelt (Joan Blackham) wasn't great either but a lot easier to follow than the abhorrent subtitles. Without getting side-tracked too much, "Battle for Sevastopol" still manages to be an exemplary war biography. The majority of it is cinematographically stunning. While not entirely accurate, like many alongside it, the story is engaging and on-point.
There is a lot of attention paid to the romantic life and, more accurately, the heartbreak suffered by the young sniper. While it might be exaggerated, there is an abundance of brilliant moments shining an accurate light on war's terror using compelling imagery to convey the feelings and shock intended.
Even someone with the nickname "Lady Death" can be as scarred and conflicted by the events of significant wars, by being in the very thick of it. The views are undoubtedly propagandistic; still, it didn't step over that line, like many other similar films like it *ugh* "American Sniper" *ugh*.
---
Verdict
While the precision and accuracy might not be on point with "Lady Death", It certainly hits close to the mark.
8,2