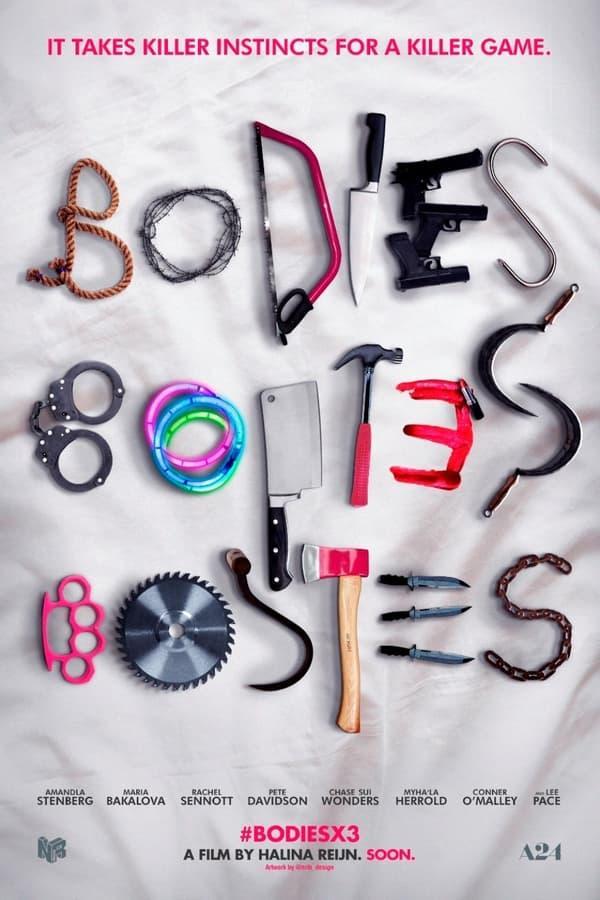 Review
Bodies Bodies Bodies (Horror, Comedy) (2022)
Director: Halina Reijn
Writer: Sarah DeLappe, Kristen Roupenian
Stars: Maria Bakalova, Amandla Stenberg, Chase Sui Wonders, Pete Davidson
---
Hosting a party to hide away from an impending hurricane, a group of friends' drug and alcohol-fueled festivities turn fatal. Soon after, they start playing a party game they call "Bodies Bodies Bodies", where players act as if they're murdered, bodies legitimately start dropping their game turns into an absolute nightmare.

Premiering at South by Southwest, "Bodies Bodies Bodies" seems to appear as somewhat of a satire on the most stereotypical horror premise, where a group of young people enter a remote mansion and are subsequently murdered by some evil spirit. It's Dutch director Halina Reijn's second film after 2019's "Instinct" and her first English-spoken feature. "Bodies Bodies Bodies" was initially released theatrically and has been produced by production company 2AM and distributed by A24, Stage 6 Films and internationally by Sony Pictures Releasing.


Recently in a relationship, Sophie (Amandla Stenberg) brings along her girlfriend Bee (Maria Bakalova) to a party while hiding from a hurricane. As everyone makes themselves comfortable, they start playing a murder mystery game amongst themselves, but the fun ends as they find their host in a pool of blood. Suspicious and paranoid, they blame each other, desperately trying to find out who killed their friends.

Whether purposefully typical or not, Reijn's feature explores a set of wealthy Gen-Z'ers in a rapidly deteriorating drug-fuelled party. There's ample time spent building upon these young adults, and the audience gets a clear idea of them and their intertwining relationships while at the same time completely misguiding them. Still holding onto the stereotypical horror trope, ''Bodies Bodies Bodies'' turns into a gnarly version of ''Cluedo'', featuring a single location to slowly but surely take out the adolescents one after the other.
In neither set-up nor the narrative does it present unique, yet it has a good way of putting a spin on the familiar. At times, it does feel like a lot more could've been done in terms of a surprise factor, and different decisions could've been made there. Yet, there are intelligent script hooks that, as mentioned, lead you astray to pack a surprise outdoing most expectations surfacing initially.

As it turned out, ''Bodies Bodies Bodies'' might not be as much of a parody, and perhaps this leads to a better film in the end, despite some choppy editing never letting the eye linger much from scene to scene. While an unsatisfying ending or conclusion was fully expected, I'd recommend those watching it to be fooled by the scriptwriters and just enjoy; you can think but let yourself be surprised, and you won't be disappointed at this successful horror comedy by Halina Reijn.
---
Verdict
Let the bodies hit the floor!
7,7