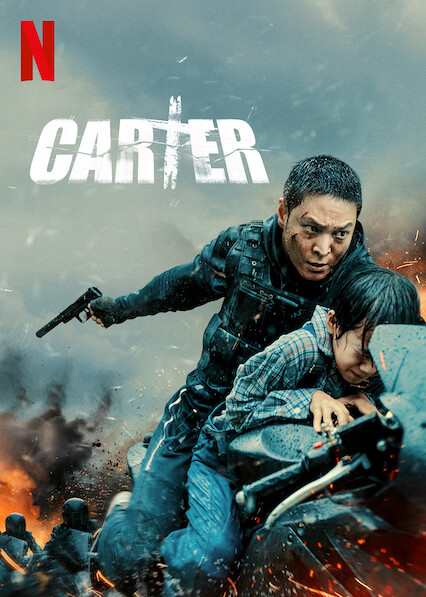 Review
Carter (Action, Thriller) (2022)
Director: Byung-gil Jung
Writer: Byung-gil Jung, Byung-sik Jung
Stars: Joo Won, Mike Colter, Kim Bo-Min, Sung-Jae Lee
---
Without any memory of his past, a man wakes up in a motel confronted by CIA agents and a mysterious caller that sets him loose on a jeopardous mission with the name Carter ringing through his head.

A direct-to-streaming Korean film created by Byung-gil Jung and Byung-sik Jung dents the surface, with expected action for such a film, it perhaps intends to challenge the brilliance of Asian martial arts films of the past in a style Imperturbably similar to ''Hardcore Henry''. It was filmed in Osong, South Korea and has been produced by Apeitda and Musa Productions while distributed by Netflix.

As a pandemic sweeps the nation, causing immense strength and speed in those infected. A man called Carter wakes up in a motel with CIA agents storming inside, demanding information Carter cannot recall and blaming him for murder. With his memory erased, he's set on a perilous mission, travelling through Seoul with high stakes.


Transitioning from a thriller opening reminiscent of ''Memento'', ''Carter'' blasts into the action of a typical martial arts film with gimmick-based cinematography similar to ''Hardcore Henry''. It is pretty clear Jung had a vision of what he aimed to achieve and threw everything at the wall.

Heavily inspired, and with fracturing percussion stylised camerawork and carefully consulted fighting choreography ''Carter'' embraces an intention, moving faster than the speed of light. An Asian Netflix feature that feels more like Western flicks such as ''The Commuter'', and ''Guns Akimbo'' rather than ''The Raid'', ''IP Man'' or ''Ong Bak''.


While the action suits what it intends, it felt like you'd somewhat expect a Korean flick made for Netflix, neutered of what makes other such films great. An attempt at a one-shot film constantly panning in motion might provide more of a nauseating feature than an engaging one. Curiously even skimping on the action, there are a few fights in vans and a bathhouse, but most feel undervalued, opting for a thriller narrative that never entirely connected with a zombie virus that was so unnecessary it feels like yet another unrealised inspiration— ''Train to Busan'' in this case.

It can't be ''1917 or ''Birdman'' in one-shots, it can't be ''Memento'' with a compelling memory loss angle, it can't be ''Hardcore Henry'' in using a POV gimmick and nor can it be ''Train to Busan'' with the use of zombies within the narrative. An experimental project that was trying but not succeeding, throwing in too much, lacking focus and despite high-intensity bores quickly.
---
Verdict
Flip that fatal switch!
4,0