Review
Champions (Comedy, Sports) (2018)
Director: Javier Fesser
Writer: Javier Fesser, David Marqués
Stars: Javier Gutiérrez, Athenea Mata, Juan Margallo, Luisa Gavasa
---
Being fired during a professional basketball match due to unsportsmanlike behaviour, followed by an arrest for a drunk-driving incident, an Assistant Coach is sentenced to community service, and his punishment is to coach a team of players with mental and physical impairments for ninety days.

Inspired by Aderes, a basketball team of intellectually impaired individuals from Valencia, Spain; winning twelve championships in Spain between 1999 and 2014. Javier Fesser and David Marqués created a sports comedy with an undesirable Javier Gutiérrez playing the Head Coach of a disabled basketball team. It has been produced by Películas Pendelton, Rey de Babia AIE, Morena Films and Telefónica Studios while being distributed by Universal Pictures.


Observing a professional basketball match as Assistant Coach, Marco Montes (Javier Gutiérrez) becomes worked-up, disagreeing with the strategic decisions made by the Head Coach. As his temper flares up, a physical altercation ensues. Montes is fired on the spot for his belligerent behaviour, and his evening concludes, driving from a bar under the influence of alcohol, smashing into a police vehicle that ordered him to halt moments before. Ordained to court, the judge sentences him to spend two years in prison or take ninety days of community service. However, instead of the usual tasks bestowed, Montes is ordered to coach a mentally and physically challenged basketball team called ''Los Amigos''.

While Gutiérrez plays a patronising figure, Fesser and Marqués deliver a balanced film centred around those with mental disabilities. It provides criticism of a societal mindset claiming these members of society are less capable while showing an entertaining feel-good underdog story that is more so about winning in life rather than winning championships.

Within capable hands, ''Champions'' oversees personal growth in both ''Los Amigos'' and coach Marco Montes. Although primarily the latter, the prejudiced Coach gains a better understanding of what matters and learns from his mistakes. Which is depicted in a comedic atmosphere, providing specific attention to the team with a far from typical, standard-challenging comedy aiming for more than what is openly perceived.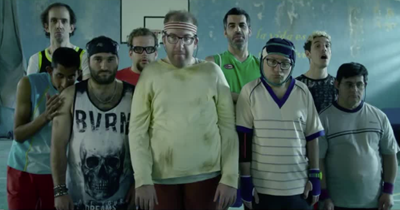 The script might deliver often-seen moments, but in the dialogue, pointed wit and heartfelt anecdotes take precedence. It seems Fesser, opting to cast these inexperienced actors deliberately, each of whom making their feature debut honestly had morally just intent, making the viewer feel this was an enjoyable experience for everyone involved. Self-respect and constant challenges of  Gutiérrez's abrasive and foul-mouthed Marco throughout, positively influencing him is most noticeable, some moments providing excellent opinions and lessons for those in real life similar to their new Coach

It turns out, that community service wasn't to have Marco help ''Los Amigos'' instead they're helping him, that's what it comes down to. Each of the players is provided with neatly packed character arcs, enforcing their foundation with astutely written comedic narratives providing an intangible element that seems near-impossible to recreate.
---
Verdict
We are the champions!
7,8