Review
Concrete Cowboy (Drama) [True Story] [Based on Novel] (2020)
Director: Ricky Staub
Writer: Ricky Staub, Dan Walser, Greg Neri (Based on Novel by)
Stars: Caleb McLaughlin, Idris Elba, Jharrel Jerome, Method Man
---
Fifteen-year-old Cole (Caleb McLaughlin) is constantly causing trouble at home in Detroit. After several incidents at school, his mother (Liz Priestley) decides to leave him with his estranged father in Philadelphia for the summer, his father Harp (Idris Elba) is not the kind of man to take pity on the boy, and soon Cole gets introduced to Harp's pastime with the Fletcher Street Cowboys.
As the first feature film written and directed by Staub and Walser, they tackle the true story of the Fletcher Street Cowboys. This sub-culture in Philadelphia has faced constant discrimination in the past and with the emergence of modern city planning and development. They are threatened more than ever as their ideals fade from society.
At the point the story takes place, the Philadelphian cowboy sub-culture is clinging to their last stable; with only a few young folks following in the old group's footsteps, it might die out soon. As Harp's son Cole arrives, there isn't much of a chance he'll learn to appreciate what makes this Fletcher Street community special. The narrative revolves around Cole coming-of-age and learning to check his attitude in his new environment. The community around him puts him to work, both them and his father giving him tough love. Despite having to adjust, Cole still manages to stick to some of his ingrained ways with his friend Smush (Jharrel Jerome); this acts as nothing more than a subplot and doesn't add much to a story that should be focusing on the Fletcher Street Cowboys and their struggles.
It's a true shame ''Concrete Cowboy'' never truly manages to highlight the better parts of the story; there's attention to detail that gets lost in the balancing act of side arcs. Perhaps most important is the fact that a sizable portion of the cast playing the cowboys is actually a part of the Fletcher Street riders in real-life, but you wouldn't really know that until the credits, or if you were informed of it ahead of time. Likely the best portions of the film are when Cole is around the stables, listening to the old stories and growing into the very thing that seemed so strange to him when first arriving in Philly. Sadly those moments suffer from rushed storytelling due to fitting unnecessary other elements in.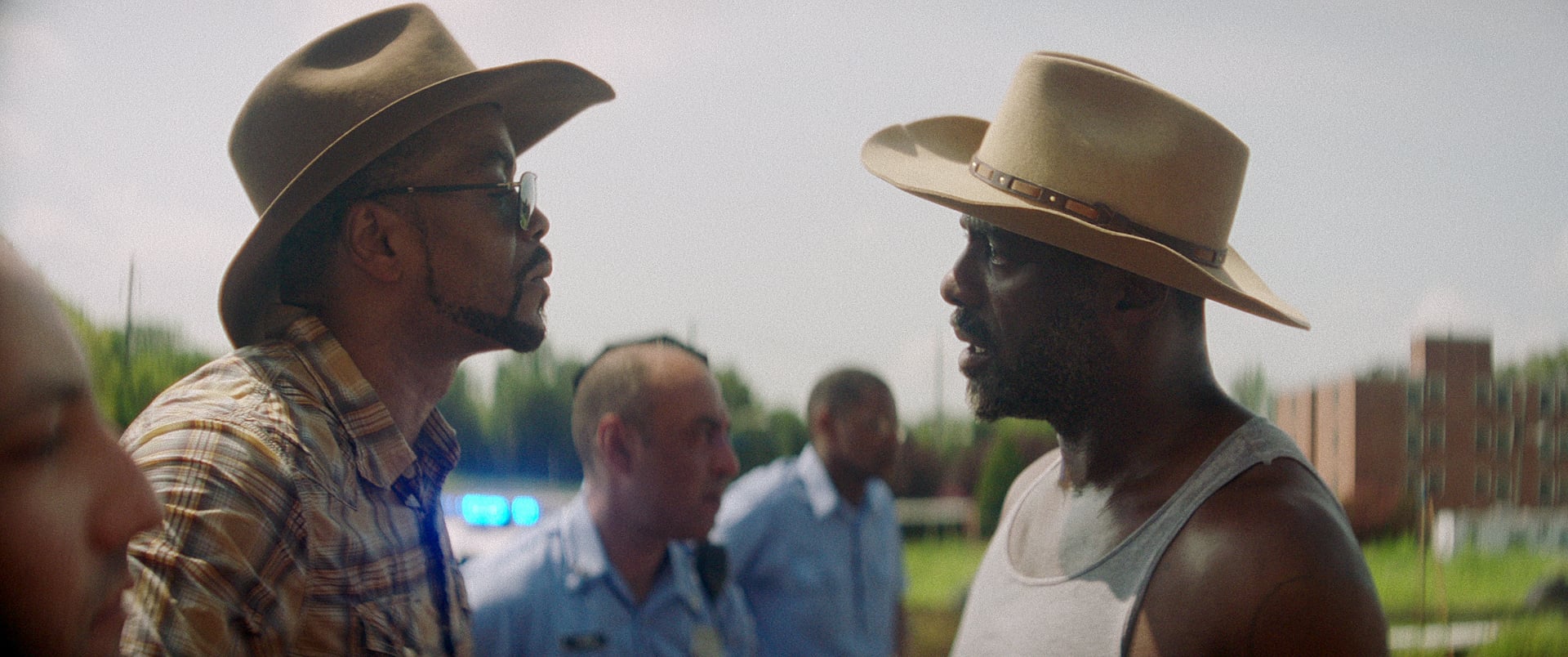 With an eye for cinematography and a soundtrack fitting so well with the overall aesthetic, it is almost unimaginable how the writers and director fail to capitalise on the vital parts in the film. ''Concrete Cowboy'' is relatively slow, but as Cole performs the menial labour and simple tasks increasing his standing in the group, it isn't hard to watch. It is when he steps away from his father's friends that it starts to suffer from tedium.
The moments Cole learns to ride a horse are so painfully short and unrealistic since the time isn't taken to pay attention to such detail. And what possibly could've been a well-rounded and fully-fledged journey observing an untold side of American history leaves a lot underneath the surface.
---
Verdict
History paved over to create a forgettable story on the backs of a painful history.
5,6