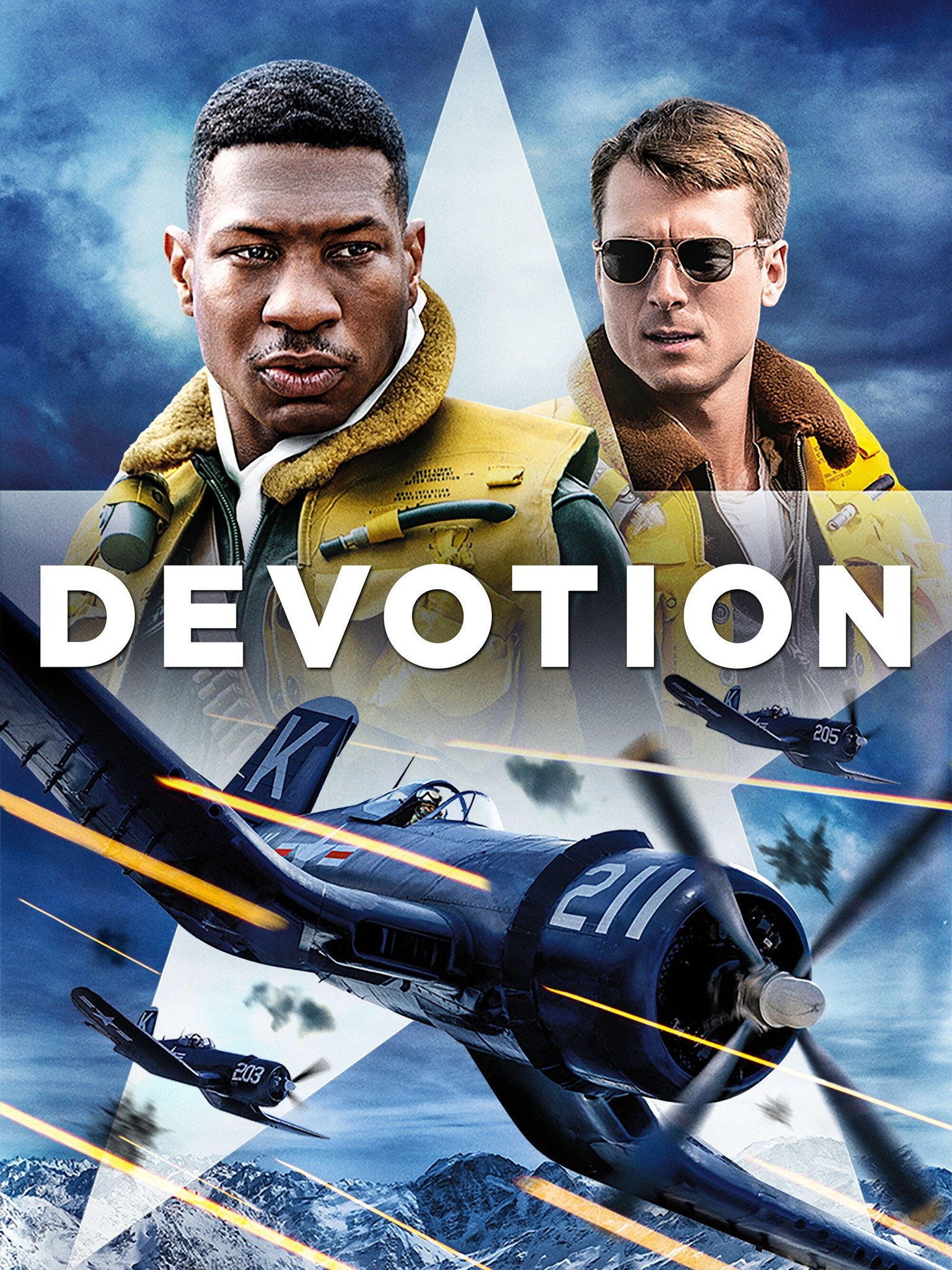 Review
Devotion (War, Drama) [Based on True Story] [Based on Book] (2022)
Director: J.D. Dillard
Writer: Jake Crane, Jonathan Stewart, Adam Makos (Based on Book by)
Stars: Jonathan Majors, Glen Powell, Thomas Sadoski, Christina Jackson
---
Two Navy fighter pilots deployed to Korea during the Korean War form a close friendship. As they risk their lives for their country, they face racial prejudice and perhaps a closer look at combat than they bargained for.

Based on Adam Makos' book "Devotion: An Epic Story of Heroism, Friendship, and Sacrifice", J.D. Dillard's depiction provides precisely what the title suggests, a picture reflecting an obligation between compatriots more-so than a Korean War experience. After the film premiered at the Toronto International Film Festival, there wasn't seemingly enough hype behind it scoring low in the box-office earnings, not that the release of "Top Gun: Maverick" could've helped. It was filmed around several locations and cities throughout the U.S. with the recreation of the Aircraft Carrier USS Leyte constructed at Statesboro-Bulloch County Airport. Real aircraft were used where possible, including some helicopters, partially due to the director's close connection to aviation, being the child of an aviator himself. The film has been produced by Columbia Pictures, STXfilms, Black Label Media and Stage 6 Films while being distributed by Sony Pictures Releasing and STX International.

Two fighter pilots, Jesse Brown (Jonathan Majors) and Tom Hudner (Glen Powell), are assigned to Fighter Squadron 32 at Quonset Point Naval Air Station. During their duties, the pair get acquainted, forming a friendship, Hudner observing first-hand the distinct treatment Brown has to go through. They and the rest of their squadron are eventually deployed far from home to Korea as tensions rise and combat experience is inevitable.


Showing the lives of Brown, Hudner and Squadron 32, "Devotion" provides a biopic not simply covering the Korean War but rather set within that time-period. Dillard's attention veers to the bond between two aviators and their experiences before, during, and after facing combat.

Within time-period and atmosphere lie two tales, or rather experiences, building much on the pre-deployment, trying to form a connection between the audience and the aviation duo. From a gentle wind underneath its wings to a sweeping gust, there's enough force to keep it airborne. Seldomly does attention stray, even without much action; there's enough in the performances of Majors and Powell to excite. Fundamentals of rapport and racism within the armed forces provide before-seen yet differently portrayed.


There's an undoubtable grasp of narrative development, little urgency to provide an Action-based feature like "Top Gun", and instead, reliable attention to the drama onboard the USS Leyte. While a defining part of "Devotion," the racial discrimination isn't overly-enforced or oppressive, it's fair to realise how common this practice was, and some films portray this in dreadful detail, "Devotion" does almost just as well without over-establishing, a scene where Brown is interviewed as poster boy stands out. Apart from that, the link between our main aviators also shines a relatable light, not-wanting help, empowering oneself and apprehensive of the consequences brought onto a man of colour.

Hearing relatively little about this project as it was released is a shame, as it deserves more attention. Majors Is such an excellent actor on the rise throughout the last decade, and despite recent allegations against him, at this point inconclusive, I'd hope the societal tumour of cancel culture doesn't reach his career. As a War film, it doesn't do much, but as a Drama, despite common features before seen, it is more than worth a watch.
---
Verdict
Dillard's "Devotion" shouldn't fly under the radar.
7,6