Review
Dog (Comedy, Drama) (2022)
Director: Reid Carolin, Channing Tatum
Writer: Reid Carolin, Brett Rodriguez
Stars: Channing Tatum, Luke Forbes, Skyler Joy, Patrick Perlaky
---
Former U.S. Army Ranger Jackson Briggs desperately tries to return to military rotation. His requests are constantly declined due to his condition. Because of his insistent behaviour, his ex-captain tasks him with escorting the former attack dog of his squadmate Riley Rodriguez who was killed in the line of duty.
In a triple debut, Channing Tatum and Reid Carolin, accompanied by writer Brett Rodriguez produce ''Dog''. Such a simple name for a seemingly straightforward film with American charm. The film was pushed back several times due to the COVID-19 pandemic, which advantageously gave the trainers of Lulu and other dogs in the movie more time with them, given a chance to enhance the performance. ''Dog'' has been produced by Metro-Goldwyn-Mayer, FilmNation Entertainment and the Free Association while being distributed by United Artists Releasing.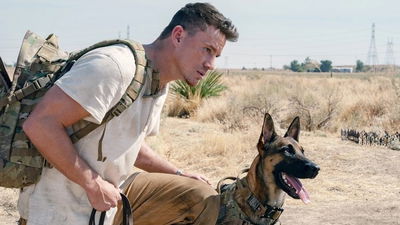 Trading in his usual Hollywood pretty boy demeanour and adding directorial skills to his repertoire, Channing Tatum shows us a more emotional performance alongside a canine companion in ''Dog''. Despite being marketed as a comedy, it is more of a light-drama with humour, which is the reasoning behind adding drama to the genre listing on this review. Tatum seems to show more maturity here, which is noticeable from early on.
The entire way through ''Dog'' fuels itself on natural tension, with Tatum's Jackson Briggs hauling along an attack dog deemed unfit for rehabilitation. While it does slowly ease up on the pressure of Lulu's behaviour, it is certainly noticeable throughout and the point of most of the film. It's a redemptive tale to Briggs as well as Lulu, forming a bond and both calmed by their forming connection. ''Dog'' does a fair job at keeping the viewer excited using smaller self-contained story segments within.
Each smaller section in this partible film serves as perfect grounds for extended cameo appearances by Kevin Nash, Bill Burr and Ethan Suplee. The preceding character being most exciting to me, who's likely been cast due to Tatum's experience in acting alongside him in ''Magic Mike''. While that was the cameo I was personally most gleeful to see, let's not understate the comedic highlight in Bill Burr, adding to the humorous elements bringing in some well-placed throwbacks to earlier jokes in the film.
Concluding as a tearjerker, ''Dog'' tries its best for the moviegoer to leave the cinema delighted, combining emotional beats with satisfactory final moments and time to dry those tears.
---
Verdict
It is true that ''Dog'' has a bit more bark than bite but still, it's an entertaining and fresh flick to see.
8,0