​Review
Earwig and the Witch (Animation, Adventure) (2021)
Director: Gorô Miyazaki
Writer: Hayao Miyazaki (Developed by), Emi Gunja (Screenplay), Keiko Niwa (Screenplay), Diane Wynne Jones (Novel by)
Stars: Kokoro Hirasawa, Shinobu Terajima, Etsushi Toyokawa, Sherina Munaf
---
Earwig is a young child, left at an orphanage as a baby. Having spent her early to middle childhood phases there, it is the only thing she's used to. Her life completely changes as one day a rather malicious-looking couple enters the orphanage looking to adopt, and to everyone's surprise, they choose the eldest child there: Earwig.
Based upon a novel by the late English novelist Diane Wynne Jones, ''Earwig and the Witch'' is the first 3D animation film made by the well-known Japanese animation company Studio Ghibli. Always having been opposed to modern animation, opting for their classic two-dimensional style, ''Earwig and the Witch'' might become the instigator for a new era in Studio Ghibli's animation.
While most of the film is fully 3D animated, there is a subtle but pleasant combination between 3D characters/objects and hand-painted 2D backgrounds serving as a nice contrast in most scenes. With most animation being well-done, only some of the effects, such as the fire under the adoptive mother's cauldron being quite underwhelming.
The charming animation and skilful use of contrast aren't everything, though, as it needs an exciting and immersive tale that sucks you into the world. Regrettably, that is where it cannot quite compete with other animation films. To me, it seemed more of a short story rather than something worth an hour or more. There isn't much narrative except for Earwig learning to be a witch and while trying to do so, discovering her adoptive parents have a fascinating past tied to her own. Most questions that would be asked by the viewer are left by the wayside. Due to overly singular focus, it fails to capitalise on these potential intricacies and questions and what should've been a final act is fast-forwarded, moving towards a happy ending which you don't see much of either.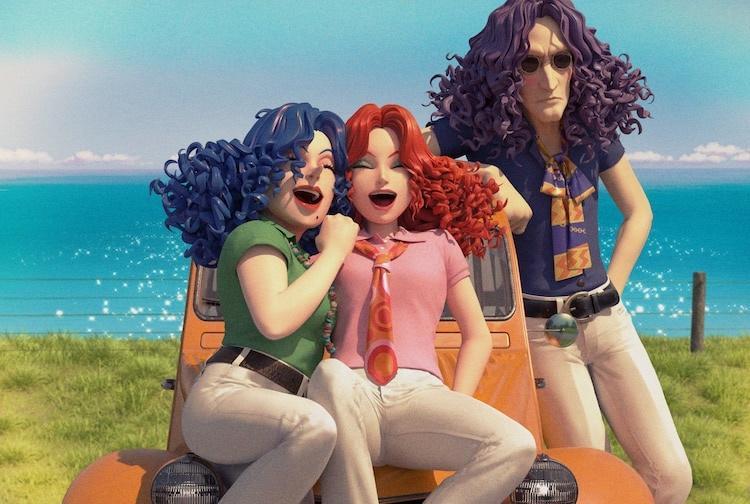 One last thing that stands out is the soundtrack. Since the story is all about a band Earwig's adoptive parents and presumably her mother was in, it doesn't use that throughout the film's tracklist, except when the narrative guides Earwig there. Even the fact that this band exists and the musicians are who they are is spoiled to the viewer far before the main character herself finds out, ruining the big unveiling.
It is pretty clear that despite its charming and impressive qualities where ''Earwig and the Witch'' lacks is the narrative that could've been improved by simply including a more established final act and making the slightest attempt of answering the questions laid out.
After watching this film, I'll undoubtedly have to go back and check out the most highly-rated Ghibli films such as ''Kiki's Delivery Service'', ''My Neighbour Totoro'' and ''Spirited Away'' to name a few since I've never watched them, that is when my schedule allows it...
---
Verdict
The shortened story harms Earwig and the Witch losing any potential it had.
5,9