Review
Falling (Drama) (2020)
Director: Viggo Mortensen
Writer: Viggo Mortensen
Stars: Viggo Mortensen, Lance Henriksen. Sverrir Gudnason, Terry Chen
---
Living alone in the ranch and childhood home of his children, Willis (Lance Henriksen) is persuaded by his adult son John (Viggo Mortensen) to move to California, where he and his sister Sarah (Laura Linney) both live. Old memories come up as the family struggles to adjust to Willis's prejudiced views and heavy dementia.
Family ties and dementia are at the forefront of Mortensen's directorial debut, making for a serious but genuine-feeling picture. It's a generational tale with large parts being told through the use of a current storyline along with flashbacks.
While for some, the offensive and conservative nature of Henriksen's character would be seen as objectionable as their unable to know the reasoning behind the Peterson family still caring for the man; it can be all too real when you have experience with a family member similar to this, or with dementia as well. While the father's behaviour is enormously offensive, the family still feels love for their own flesh and blood, taking into account that dementia fuels part of Willis' behaviour.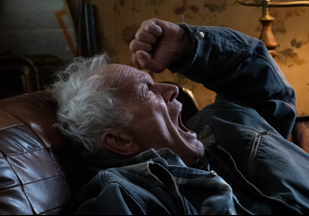 The shifts in the timeline that occur throughout the film showing several different ages in John and Sarah's lives feel natural despite them happening a bit too often and haphazardly in the latter half of the film, leading to some uncertain moments but luckily never becoming too bewildering. As simple as the film intentionally is doesn't mean it gets boring; the lack of any plot twists creating a manageable drama never gets dull or sluggish due to the aforementioned intentional simplicity and great acting. Due to the changing timelines, with the characters being portrayed throughout their lives, this presents a challenge in the casting department, having to find several actors in different stages of their lives. Luckily ''Falling'' does quite well, and the casts made sense and looked alike enough to appear as if it was the same person. Making it more impressive is that Mortensen wasn't even meant to play the son: John Peterson. Yet, to nobody else fitting in the role within their given budget, he took it upon himself as actor/director.
Along with its drama, it even enlightens sometimes with hints of light comedy and genuinely nice interactions serving as a nice extra facet to an already distinct and original film.
---
Verdict
Certainly worth your time, with a plot that feels different enough for this era in film production.
7,1