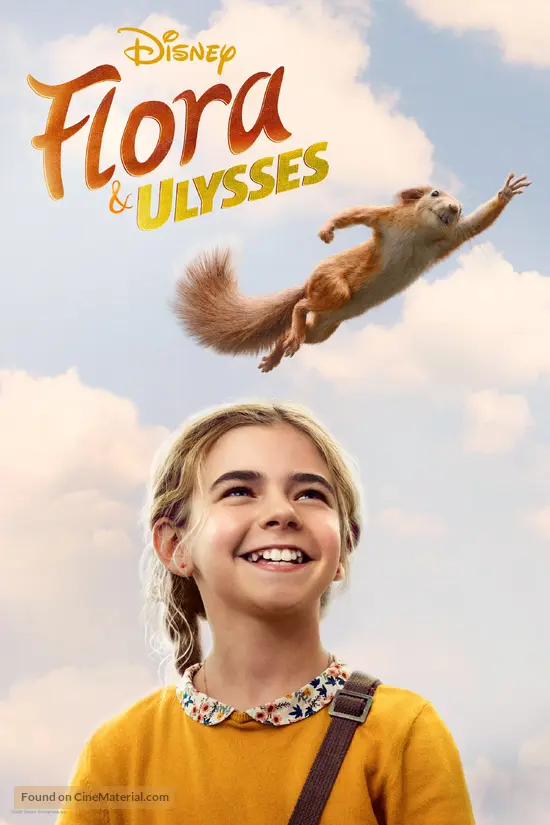 Review
Flora & Ulysses (Family, Comedy, Adventure) [Based on Novel] (2021)
Director: Lena Khan
Writer: Brad Copeland, Kate DiCamillo (Based on Novel by)
Stars: Matilda Lawler, Ben Schwartz, Alyson Hannigan, Benjamin Evan Ainsworth
---
The young life of self-proclaimed cynic Flora changes forever when she rescues a wild squirrel which she affectionally names Ulysses. Nursing the squirrel back to health, she notices it seems as if the squirrel has superpowers.
As a film adaptation of a children's novel of the same name by Kate DiCamillo, Lena Khan directs the film, with the script adapted by Brad Copeland. ''Flora and Ulysses'' has released on Disney+, and production was handled by Gil Netter of Netter Productions alongside Walt Disney Pictures.
Following the story of Flora Buckman (Matilda Lawler), ''Flora and Ulysses'' is a very appropriate family film. Using comics as one of the guiding topics, Flora narrates her own story with some comics panels as transitions. With wacky angles and a unique and original vibe, despite being based on a children's novel ''Flora and Ulysses'' is quite possibly one of the best comedic hits in the 2021 film landscape so far.
Casting comedy figures quite well known on Youtube, such as Kate Micucci and Ben Schwartz, works especially well with the swift pacing and ridiculous comedic styling; it's a generally endearing adventure. Not only are Schwartz and Micucci great casts to see, but also included is Danny Pudi of ''Community'' fame, where he played Abed. The film almost seems to be stylised more after comedy TV series, which actually makes sense with Brad Copeland as the scriptwriter who co-produced the well-received series ''Arrested Development''. The child actors in the film do have a little way to go in their performances but do quite well nonetheless, and don't detract in the success.
Genuinely funny and an excellent watch for families of all ages, it features running gags that fit flawlessly within its theme and never get stale. The special effects and CGI work as they should, mainly for Ulysses, but perhaps not so much for a certain cat that makes a couple of appearances. The serious vibes from Flora's mother Phyllis and her romantic novel career is perfectly off-set by Flora's childish father, who used to write comics and is now an office supply clerk.
Both surprising, unique and goofy, Khan and Copeland created a project that doesn't scream Disney but remains superb on its own accord.
---
Verdict
Nutty in all the right ways.
8,0