Review
Free Guy (Action, Comedy) (2021)
Director: Shawn Levy
Writer: Matt Lieberman, Zak Penn
Stars: Ryan Reynolds, Jodie Comer, Joe Keery, Lil Rel Howery
---
An NPC in an open-world video game breaks past the boundaries he thought he had to chase the woman of his dreams only to discover he is capable of anything he wants to do in this fabricated reality.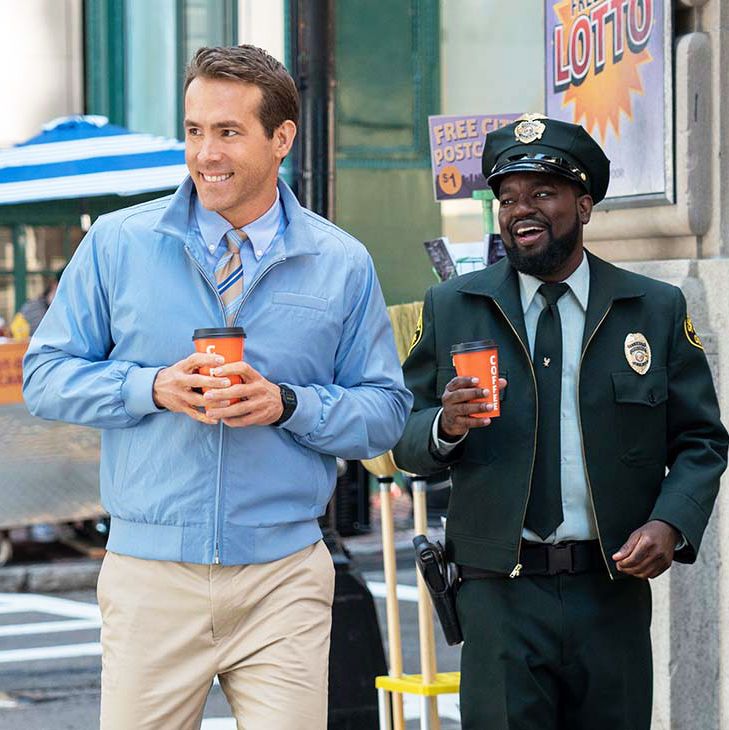 Using an entirely original video game world as the backdrop, Matt Lieberman sold the script for ''Free Guy'' to 21st Century Fox, and it was years later, in 2016, when Shawn Levy initially passed on it. Only after he pictured Ryan Reynolds, who also produced the film, in the lead role was ''Free Guy'' put in actual development, with the rights being acquired by Disney after 21st Century Fox went defunct.
Following other videogame movies such as ''Wreck-It Ralph'', ''Warcraft'', ''Detective Pikachu'' and ''The Lego Movie'', this film is more original with most of its content and an original plot. Despite loosely being based on properties like ''Grand Theft Auto'', ''Just Cause'' and ''Fortnite'' or, most fittingly ''GTA: Online'' it doesn't hold a connection to any video games, books or novels. Perhaps the most logical comparison in film would be ''Ready Player One'', being influenced by video games without any IP behind it.

The difference between this film and video game movies of the past is not only its entirely imagined plot and setting but coming along with that is the nearly absent references and guest cameos that made a film like ''Wreck-It Ralph'' stand out. Without these hooks for the viewer and the characters in the film, it stands entirely on its own, which could create this open-world feel within a film but doesn't quite work as it might need to.
With Reynolds as the main character, the comedy Lieberman is most known for in both his animation and live-action films will undoubtedly work, and it does even more so with Lil Rel Howery, who delivers spot-on, simple over-the-top comedy. That said, the acting is really not the issue here, and how could it be with the list of cast featured. Fact is, the script seems shallow, with plot points such as Guy (Ryan Reynolds) and his NPC friends being threatened with the deletion of their world due to an enraged game company owner played by Taika Waititi wanting to delete the game days in advance of the sequel launching.
If anything, ''Free Guy'' is the kind of movie that needs the viewer to go along for the ride, with the target audience being preferably Gen Z. Apart from minor Marvel references and a Portal Gun, there isn't anything video game movie fans will be able to grasp onto and the ''GTA: Online'' theme bores quick. The visual effects and primarily the game-like graphics of Free Guy as an actual game in the film when it switches to some real-world scenes are pretty neat. Alongside cameo appearances of some well-known Twitch streamers and Youtube personalities.
What lacks most to this action-comedy spectacular is heart and soul, just feeling like a repetitive a watered-down videogame film.
---
Verdict
An empty videogame movie, severely lacking freedom.
4.9