Review
Ghosted (Action, Adventure, Comedy) (2023)
Director: Dexter Fletcher
Writer: Rhett Reese, Paul Wernick, Chris McKenna
Stars: Chris Evans, Ana de Armas, Adrien Brody, Amy Sedaris
---
Being ghosted by his date from the previous night, a young man uses a tracking app to locate his admired one-night-stand only to realise she's an international spy an both their lives are now in danger.

Mostly known for his Elton John film ''Rocketman'', Dexter Fletcher provides an incredibly modern take on love within an action movie. Being in the works since August 2021, with Scarlett Johansson speculated to star alongside Evans both appearing in prominent superhero roles for Marvel Studios. Scheduling conflicts eventually caused Ana de Armas to be cast instead, with her; a genuinely unexpected ensemble cast of talent. It has been produced by Skydance Media and Apple Studios being distributed on Apple TV+.

After a coincidental meeting, Cole Turner (Chris Evans) shares a bed with Sadie Rhodes (Ana de Armas) following their day-date. The morning after, back at his parents' farm, his needy texts go completely ignored—head-over-heels in love, only further spurred on by his parents Cole tracks his inhaler through an app, since he left it in Sadie's bag, discovering she's in London, so he books a flight and finds himself in a lot more trouble than he's worth.


As Apple TV+'s latest film, Fletcher has an action-packed spy/romance in-store with high-stakes action meant to bewilder and baffle in quirkiness. With an ensemble cast, filled to the brim with familiar faces and a notable budget Apple might have another hit on its hands, despite some differences with past films in their catalogue.

Troubled by experiences as of late Ana de Armas' Sadie, by happenstance meets Chris Evans' Cole leading to an impassioned night and even more trouble than imagined as Sadie's controlled chaos turns into complete disarray. After the initial romantic tones, we're set for action and intensity with an espionage twist—James Bond it's not, but comparable to ''Mr. & Mrs. Smith'' thematically. Seemingly far from memory, the plot is presented surface level, without delving too deep into details and not sparing anything.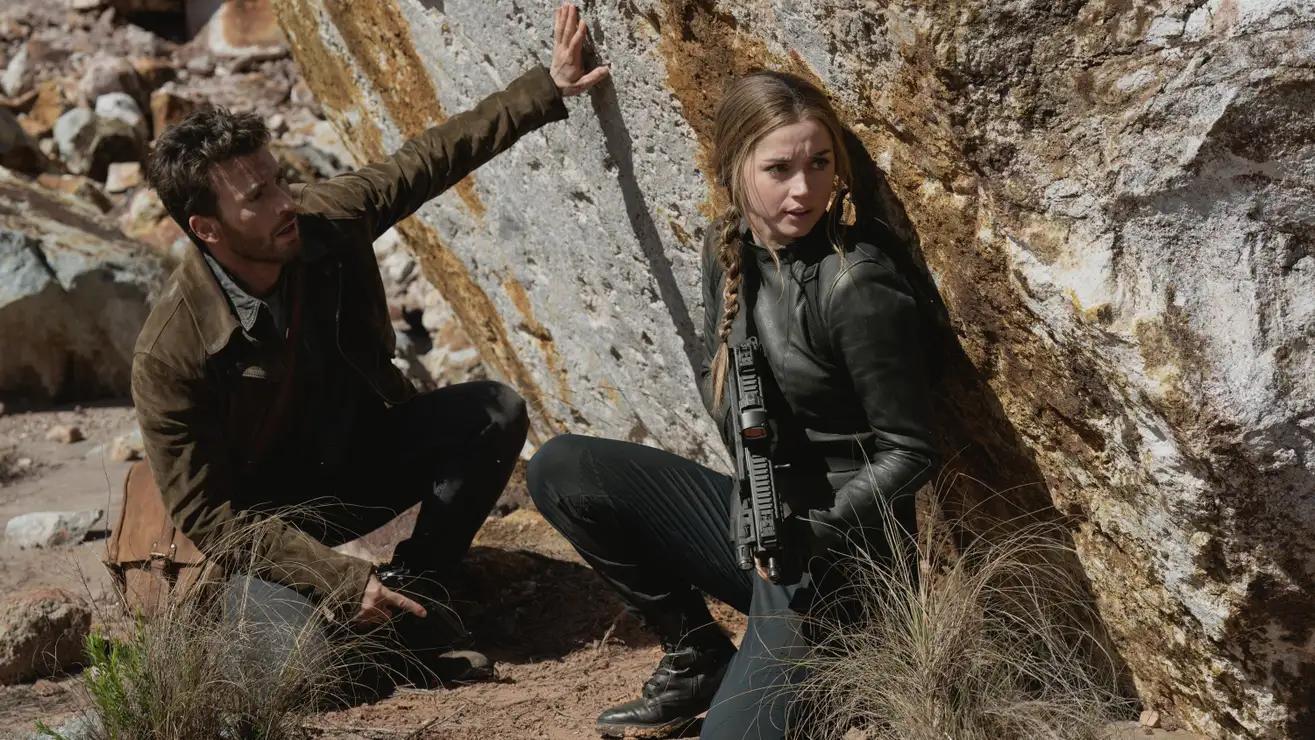 While early on there's a noticeable substandard feel given off, it's a modern action-comedy. It's near-unbelievable to say Evans and de Armas provide an even worse experience than the luckily forgettable ''The Gray Man''. Contrary to The Russo Brothers, however, despite my opinions about Apple's product range—Apple Studios, so far has had a stellar record. Ranging from ''CODA'' to ''Tetris'' and even positively rating simpler films such as ''Palmer'' and ''Finch'' perhaps past success has Apple execs show their true colours. While the immensely talented Adrien Brody manages to make something out of everything, nearly comparable to Tom Hardy with his myriad of harsh accents—Chris Evans and Ana de Armas truly phoned it in, zero chemistry and zero heart. Throughout the choppy pacing, there's every opportunity taken to abandon smaller elements and move on to the flashy events. The supposed CIA is presented as a five-year-old's description of the agency, and that's even unfair to the five-year-old. Within the pièce de résistance even gravity is a foreign concept to Fletcher and his writers simply taking advantage of centrifugal force without rhyme or reason.

As positive as reviewing is approached on Mark's Remarks, sometimes it's made an improbable chore. Honesty comes first, and ''Ghosted'' proves nothing more than a cash grab, showing the murky downsides of streaming services as we're more used to by Netflix. Younger audiences might not be as familiar with scrounging through heavily discounted DVDs, but this flick shows more than ever we've truly arrived in the era of Bargain Bin+.
---
Verdict
Just stop responding, ghost this film.
3,5