Review
John Wick: Chapter 2 (Action, Thriller) (2017)
Director: Chad Stahelski
Writers: Derek Kolstad
Stars: Keanu Reeves, Peter Stormare, Laurence Fishburne, Ian McShane
---
Tying up loose ends, John Wick (Keanu Reeves) once again attempts to retire from the business after recovering his Mustang and retrieving a new dog. However, his plans go awry as an old acquaintance reminds him of a blood debt due to be paid.
John Wick: Chapter 2 is the direct continuation of the original, flawlessly extending the story with the initial scene popping with a most exciting car sequence. Not surprisingly it seems like the directors and writers wanted to redo the car scene at the end of the first John Wick yet with a larger budget. That is an ongoing theme you'll notice throughout this second instalment. After the ''Baba Yaga'' Is done with the Russians successfully regaining his Mustang the sequence concludes with a confrontation in Abram's (Peter Stormare) office, Viggo's brother, just finishing a familiar explanation of the terrifying Wick to one of his henchman. Now directly confronted by Wick the pair agrees on a ceasefire, both having seen enough bloodshed. 
Less focused on pure revenge, Chapter 2 delivers everything and more than the original. The script slowly hands out more inner lore and Wick's has to go back to an older version of himself, despite elements of the original still being apparent there are many more elements of things like the Hitman or James Bond franchise. I'd argue moments like Wick preparing for the contract by selecting his weapons and fitting a new suit are some mid-movie highlights.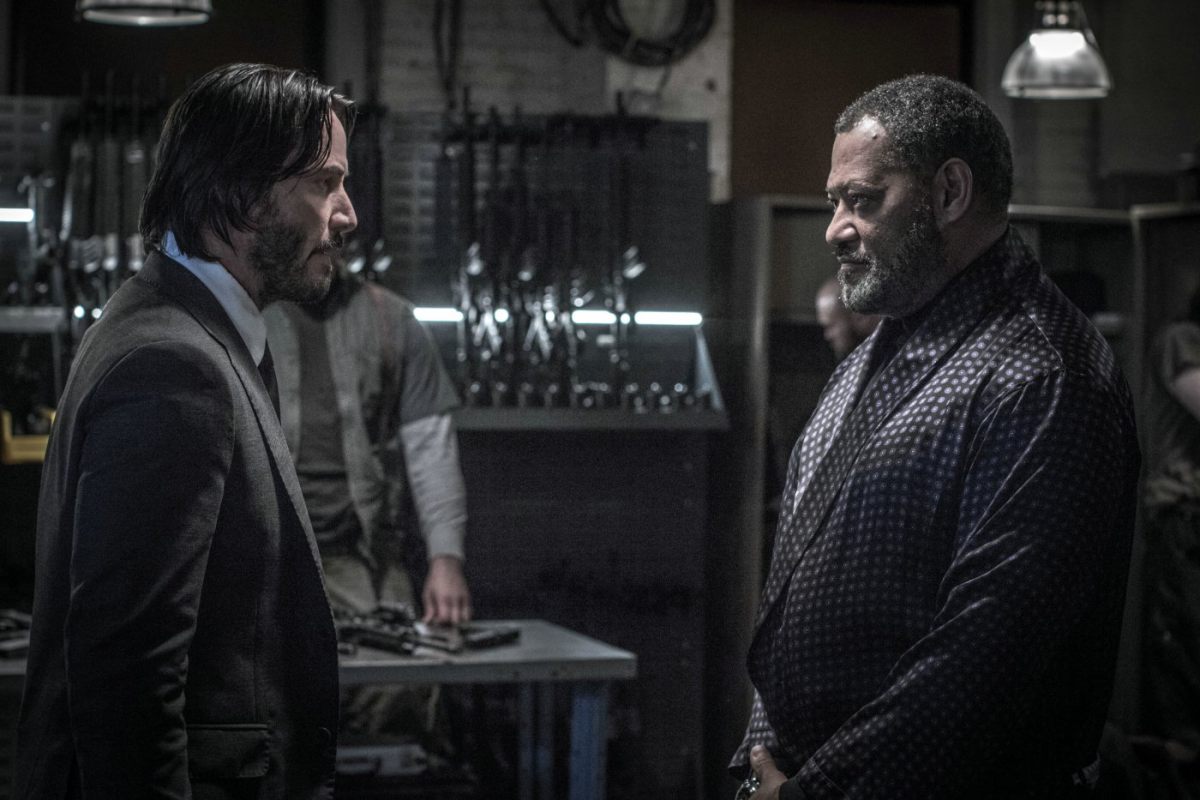 With the action stepped up a notch, the cast follows suit, not only nabbing Stormare for a role but also Laurence Fishburne, Lonnie Rashid Lynn (Common), Ruby Rose, to name a few. Despite it being another rollercoaster of excitement, this film takes more time to develop, putting Wick in the tricky situation of invading an old family castle. That development works excellent though, as I shortly mentioned that the Italian continental hotel preparations are a highlight. While it's challenging to deliver a stand-out action scene comparable to the house scene of John Wick 1, there are some great attempts in doing so. All in all, what stood out most was the excellent cinematic grappling in a feud between Wick and Cassian (Lonnie Rashid Lynn), working as a fight and injecting some humour in between.
In the end, the story is still a bit of an excuse to film action back to back, but in this case, I'm not complaining, with many great actors and slick action it might just top the original… Even if it's only by a little bit.
---
Verdict
Taller than it's predecessor this candle will keep burning for quite a while.
7,9