Review
Jungle Cruise (Family, Adventure) (2021)
Director: Jaume Collet-Serra
Writer: Michael Green, Glenn Ficarra, John Requa
Stars: Dwayne Johnson, Emily Blunt, Jack Whitehall, Jesse Plemons
---
With aspirations to solve a hidden mystery along the Amazon River, Lily Houghton and her brother MacGregor unintentionally come across Frank, a riverboat captain and somewhat of a swindler. In his never-ending schemes, he tricks the pair to travel with him for a cheaper price just to pay off what he is owed to the demanding harbourmaster Nilo Nemolato.
Costing a whopping $200 million to be made, ''Jungle Cruise''' is based directly on a Disney theme park ride, and that is abundantly clear from the first time Dwayne Johnson enters the screen. Jaume Collet-Serra directs the project, mostly known for Liam Neeson films such as ''Unknown'', ''Run All Night'' and ''The Commuter'' as well as ''The Shallows'' with Blake Lively. In times of a pandemic, this old-school family/adventure might be just what everyone needs to cheer up.
''Jungle Cruise'' has the most striking resemblance to the ''Pirates of the Caribbean'' films. As well as seeming like a formulation of well-known family adventure classics and the ''Indiana Jones'' and ''The Mummy'' franchises. Although it lacks in creating an original feeling feature, it's still a shockingly entertaining film with standout performances by Emily Blunt and Dwayne Johnson, not withholding the array of villainous characters such as Paul Giamatti's Nilo Nemolato, Edgar Ramirez' cursed conquistador and Jesse Plemons' dastardly German prince Joachim.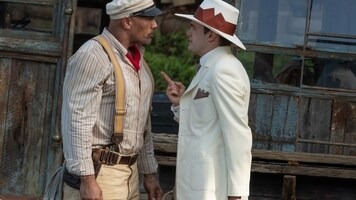 It is a prime example of classic adventure films showcasing the standard archetypes, despite more modern interpretations with characters like Lily Houghton. She certainly isn't the damsel in distress we would've seen in the '80s and '90s. Nor is there a blooming love story as Frank seems oblivious to the subtle glances his companion throws at him.
The throwback feel and storytelling can entertain you enough to look past the serviceable CGI and the swift camera cuts during the action sequences. It is simply pleasing to the eyes using exciting locales featuring caricature-like characters to convey a story of mystery and intrigue. As we're still awaiting a new iteration to Johnny Depp's swashbuckling adventures, this fast-paced South American adventure could be the perfect substitute.
---
Verdict
Indiana Johnson and the Curse of the Amazon.
7,0