Review
Kitchen Brigade (Comedy, Drama) (2022)
Director: Louis-Julien Petit
Writer: Louis-Julien Petit, Liza Benguigui, Sophie Bensadoun
Stars: Audrey Lamy, François Cluzet, Chantal Neuwirth, Yannick Kalombo
---
Becoming increasingly frustrated in a high-class restaurant working for a celebrity chef, a sous-chef with aspirations to open her own restaurant accepts the position as a cook in a temporary home for young migrants.

Premiering at the L'Alpe d'Huez Film Festival, Louis-Julien Petit delivers a light comedy based within the kitchen of a young immigrant's shelter. While not directly based on a true story, "Kitchen Brigade" also known as "La Brigade" has been inspired by Catherine Grosjean's story, who led a brigade de cuisine of foreign teenagers in Treignac to help them achieve a CAP Cuisine Diploma. The film has been produced by France 3 Cinema, Odyssée Pictures, Elemiah, Pictanovo and Apollo Films, which also handled distribution.

Unhappily working for famous chef Lyna Deletto (Chloé Astor), Cathy Marie (Audrey Lamy) quits her position after being reprimanded for her stubborn behaviour in adjusting her signature dish despite exact orders. Searching for a new job, hoping to save up to open her own restaurant, she comes across an application for head cook at a shelter for underaged immigrants. Initially declining, she ends up taking the job with the sole responsibility of cooking for the home; she broadens the menu, at that point only consisting of canned ravioli to something worth her time, teaching these children to cook in the process.

Each fresh challenge, however displeasing it may seem at first, brings opportunity, sometimes even discovering new paths in life and creating new goals. That's the tale "Kitchen Brigade" seems to tell, in both a heart-warming and comedic social endeavour.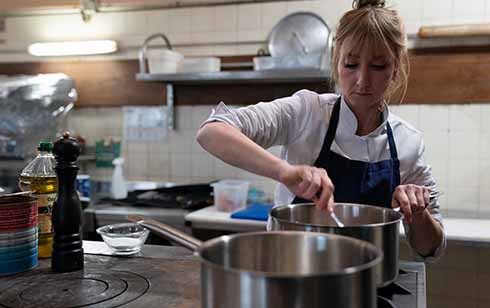 Often films featuring an unlikable protagonist are prone to falter as the audience finds investing in these deplorable figures difficult. However, with Lamy's Cathy Marie, understanding and growth are vital to making her character and "Kitchen Brigade" work as Petit and the writers hoped. This film presents an obnoxious yet understandable main character; despite her moping, we've all been in similar circumstances, feeling like we know better than anyone else.


There's some similarity to "The Swimmers", which followed the true story of two immigrants following their dream to partake in the Olympics, and an older excellent film featuring François Cluzet called "Intouchables". With a broader cast than those films and following a vastly different character, Lamy manages to truly inhabit her character, comedic outbursts of anger earlier in the flick delighted as Cathy Marie gradually soothes and finds a new aspiration presenting more of the uplifting elements of such a film.

Due to the amount of cast, there's a focus on just a few teens, such as Mamadou, Djison and GusGus. Despite taking its time to open up the plot, the observant viewer will see the home as a reflection of Cathy Marie as well, her fitting better within this place than she thinks throughout the initial time spent there. Later we discover some backstory, explaining her slightly better—while a nice touch, it almost feels superfluous.

For those enjoying foreign films, "Kitchen Brigade" serves up a light-hearted and worthy endeavour, I would've liked to see some additional cooking processes as mostly mise en place is shown alongside garnishing the plates. There's some feeling of Petit's film being rushed, leading to the finale sequence, as there's little to no connective tissue. Although, it's forgiven as the final message behind it is satisfactory, an enjoyable watch if not much more.
---
Verdict
Garnished well, lacking some substance.
7,2