Review
Knock at the Cabin  (Horror, Thriller) [Based on Novel] (2023)


Director: M. Night Shyamalan
Writer: M. Night Shyamalan, Steve Desmond, Paul G. Tremblay (Based on Novel by)
Stars: Ben Aldridge, Jonathan Groff, Kristen Cui, Dave Bautista
---
During their stay in a remote cabin, two parents and their adopted child are suddenly confronted by several intruders. They claim the world is about to end, and only one difficult decision can avert the inevitable apocalypse.

Mostly known for his unique choices in narrative and unforeseen plot twists, M. Night Shyamalan's latest feature sees regular people with an unreal decision to save the rest of humanity. Adapted from Paul G. Tremblay's novel, it's a neatly bundled doomsday scenario presenting both odd and challenging due to its initial concept. Most of "Knock at the Cabin" was filmed in New Jersey and Pennsylvania while being produced by Universal Pictures, FilmNation Entertainment, Blinding Edge Pictures and Wishmore Entertainment, also distributed by Universal Pictures.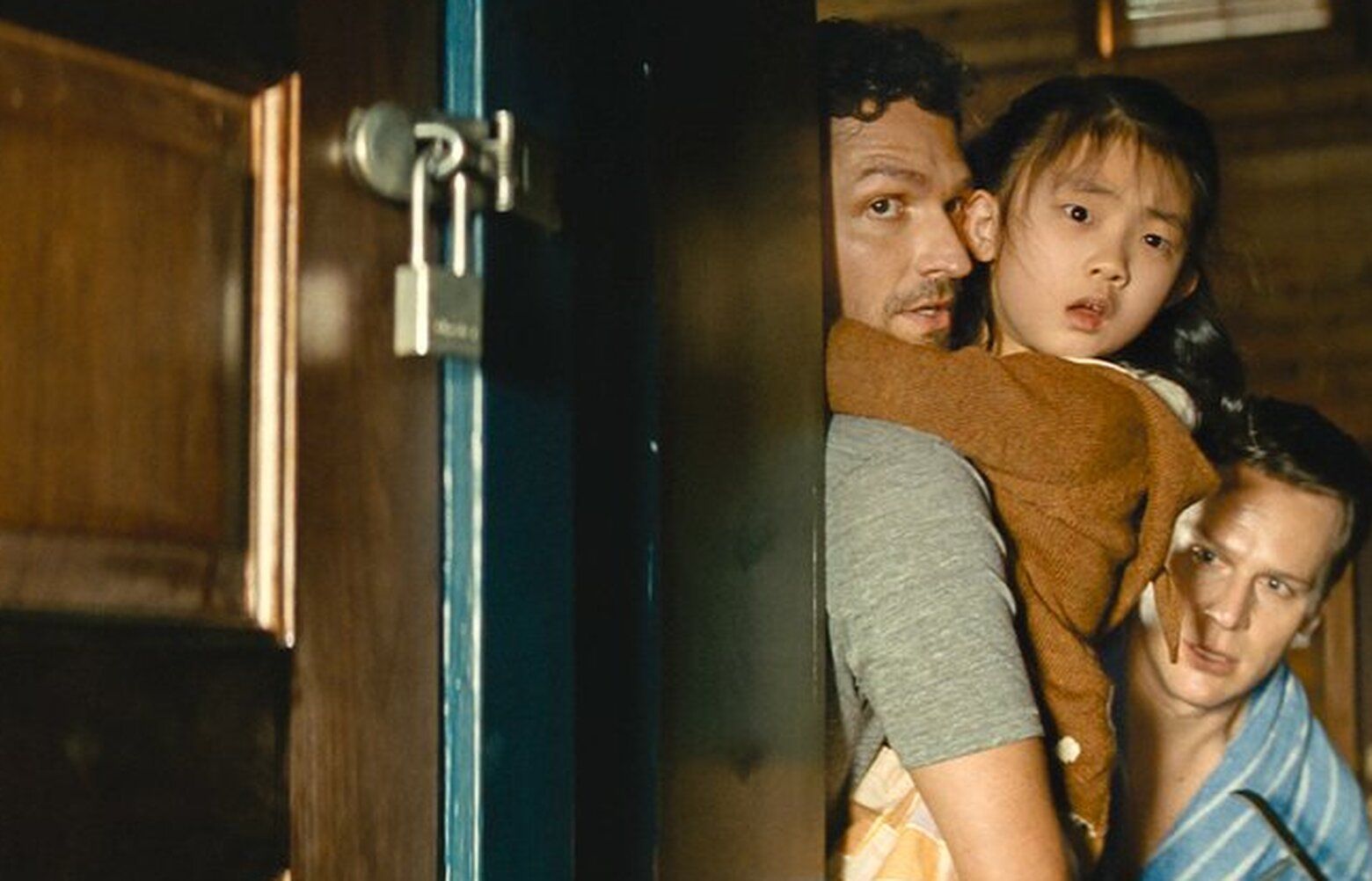 Spending some vacation time in a remote cabin, Eric (Jonathan Groff) and Andrew (Ben Aldridge), alongside their adoptive daughter Wen (Kristen Cui), the family of three is dismayed when several strangers interfere, claiming to be the harbingers of global catastrophe to come. The stakes are heightened, and the clock is ticking. They must make the correct decision and make a willing sacrifice to deliver humanity from carnage.

Despite seemingly lacking the twist Shyamalan is known for, "Knock at the Cabin" presents an eerie, tension-filled thriller of conflict, providing a unique viewing experience with a memorable narrative.


Within a limited environment, Bautista's Leonard and his group force an unfathomable choice upon the family. Within the inspiration of Tremblay's novel lies an intriguing idea presenting often-seen subject matter in an uncommon narrative.

Initial impressions with Leonard and Wen meeting and catching bugs create this early tension and eeriness created solely due to the use of a close-up angle. Despite being unsure of what is about to happen and the conversation being quite gentle, this lingers throughout Shyamalan's picture. Characters are slightly off, and the dual fathers in Aldridge's Andrew and Groff's Eric are rightfully hesitant and frustrated; there's a slight disconnect reinforced by the encroaching group armed with medieval-looking makeshift weapons. Propensity against violence and a restrained demeanour further all these sentiments with the ever-pressured script and camerawork, which only loosens its grip within rare flashbacks of the family's life, presenting a mellower sensation despite emotions and subject matter.

Discomforting yet pleasant with chilling moments, M. Night Shyamalan provides an oddball narrative, proving talented filmmakers can methodise a thrilling feature with little means. Near-brilliance is seen within character work—Bautista and Quinn standing out, with Grint as the cherry on top.
---
Verdict
Knock again.
8,0