Review
Last Night in Soho (Drama, Horror, Thriller) (2021)
Director: Edgar Wright
Writer: Edgar Wright, Krysty Wilson-Cairns
Stars: Thomasin McKenzie, Anya Taylor-Joy, Matt Smith, Diana Rigg
---
An aspiring fashion designer with a mysterious gift travels to London for her studies. Unable to truly fit in at school, her paranormal gift transports her to the '60s every time she closes her eyes, and she stumbles into the life of Sandie. A star in the making with a haunting path to fame.
Premiering at the Venice Film Festival and later making its UK premiere in October of 2021, ''Last Night in Soho'' was released for wider audiences in October of that same year. While the horror aspects make their way into this latest project, it is far less comedic. It's a bit of a side-track for director Edgar Wright, being known for films more comedy focused, such as Simon Pegg's ''Shaun of the Dead''. Nevertheless, sometimes it is most engaging when a director goes somewhere else altogether.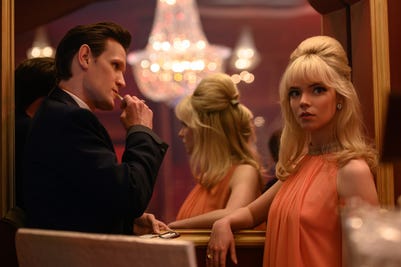 Coming-of-age and psychological horror merge in an eerie trip from modern times to the swinging sixties. Casting young actress Thomasin McKenzie, it is a parallel of two characters, her character Ellie and Anya Taylor Joy's Sandie. While the latter seems to be all the rage nowadays, it does seem like a very fitting casting decision, contrasting a risqué and confident character with the more muted and unobtrusive role McKenzie plays.
The way the story of Sandie is told through Ellie's eyes feels different and fascinating as she tries to balance her esoteric discoveries with a busy school schedule, despite the former taking up most of the narrative's time. To be transported in the way ''Last Night in Soho'' does is a welcome addition to the thriller genre and a much-needed blessing for the horror genre. Through intelligent edits, it merges these two disparate worlds within a blink of an eye; the intent sometimes seems to discombobulate while still engaging the viewer in a thrilling tale of the past.
​There's no choice but to feel sorry for Ellie, being in a mostly foreign city on her own, having to live a double life without much choice in the matter, and creeping everyone out as she does so. Turning more and more delirious at every turn, it can become somewhat overbearing. When there's a murder angle introduced, it feels more like a horror than a thriller since it doesn't give you many clues other than pure guesses of who supposedly murdered the person In question.
From where it starts to where it ends up, it seems clear it isn't always about the destination but more so about the journey, and that is what defines ''Last Night in Soho'' for me. While I was enamoured with most parts of it, there are definitely some curves leading to a less-satisfying feature as a whole. If anything, though, the superb editing sets it apart enough to have a chance at being one of my favourites from last year.
---
Verdict
While a sequel would ruin it, I'd be delighted to spend another night in Soho.
7,8