Review
Locked Down (Comedy, Crime, Romance) (2021)
Director: Doug Liman
Writer: Steven Knight
Stars: Chiwetel Ejiofor, Anne Hathaway, Ben Stiller, Mark Gatiss
---
Bound to break up eventually Paxton (Chiwetel Ejiofor) and Linda (Anne Hathaway) are stuck in quarantine. As the irritability grows to immeasurable amounts, life still has to move on. Linda is working for a large company, despite being favourably viewed by her employers. She is starting to consider resignation, all while Paxton is in a downward spiral of his own. Riling up everyone around him as his rebellious attitude cannot be kept inside for long, and struggling with the fact that Linda no longer loves him.
Locked Down features Anne Hathaway and Chiwetel Ejiofor in a very familiar situation to everyone right now. As one of the Covid-19 era movies released, it's as relatable as it gets, handling topics such as company budget cuts, people stockpiling toilet paper and mental degradation from being cooped up for so long. While the couple portrayed in the movie certainly doesn't seem to have been in a healthy relationship in the first place, Corona has made it even worse.
Zoom calls, looming divorce and agitation carry the film forward in a relatable and humorous way. There is no end to the personal hell Linda and Paxton have created for themselves every scene untangling more frustration. The interaction and development between the two main characters are very well-done, thanks to the actors playing them, without Ejiofor and Hathaway's chemistry I wouldn't see Locked Down as a success. The juggling of emotions and light-drama keep the viewer captivated despite everything ending in a less than satisfying later half.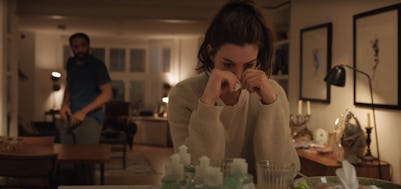 Writer Steven Knight seems perfect for a movie like Locked Down after being behind Locke, which took place entirely in a car, with Tom Hardy taking phone call after phone call. And Doug Liman, well. Nothing to say there, his record speaks to itself. But still, something inexplainable was missing; maybe it was the homemade bread.
The exaggeration and intensity of the humour work in the movie's favour, but the script's originality is simply lacking.
---
Verdict
We're all in quarantine, so why not watch it whilst we're locked down anyways.
5,8