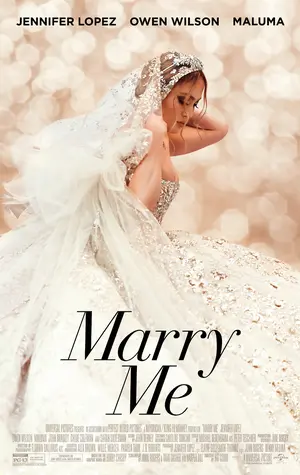 Review
Marry Me (Music, Romance) [Based on Graphic Novel] (2022)
Director: Kat Coiro
Writer: John Rogers, Tami Sagher, Harper Dill, Bobby Crosby (Based on Graphic Novel by)
Stars: Jennifer Lopez, Owen Wilson, Chloe Coleman, Sarah Silverman
---
Sensational popstar Kat Valdez (Jennifer Lopez) plans to marry fellow musician and boyfriend Bastian at a huge concert/marriage ceremony. A sudden revelation changes her perception of Bastian, and instead, she asks a random audience member in Charlie (Owen Wilson) to marry her instead.
Including musicians Jennifer Lopez and Maluma, ''Marry Me'' is the film adaptation of Bobby Crosby's 2012 graphic novel of the same name. Alongside the film, the duo of Lopez and Maluma have published an album featuring the original songs from the movie. It was entirely filmed in New York and produced by Nuyorican Productions, Perfect World Pictures and Kung Fu Monkey Productions, while distribution was handled by Universal Pictures, available to stream on Peacock Premium.
In an attempt to bring something fresh to the romance and rom-com genres, ''Marry Me'' uses the comic by Crosby, creating a romantic plot fuelled by pop-music energy. It's a set-up that felt different, at least to me, but as always with romantic comedies, the likelihood of trapping itself within clichés is inordinately high.
Two individuals with vastly different lives find each other and discover a love unlike any other; it's a tale as old as time. In this reimagined journey, there are quite a few heartfelt moments; Wilson and Lopez manage to sell their roles quite well, supported by singer Maluma in his acting debut alongside Sarah Silverman and Chloe Coleman. The last also fits quite well, her personality adding to Wilson's charm. And with being cast in quite a few projects as of late, such as ''My Spy'', ''Gunpowder Milkshake'',  and even being cast in the next Avatar film, I can see a bright future for this child actress.
As primarily good acting, original music and uplifting romance are combined, it is somewhat of a shame to see shimmering specks of originality be covered by a hodgepodge of generic rom-com tropes. Despite having treasures such as Owen Wilson and J Lo on board, managing to fabricate the chemistry and tension between their characters quite successfully, the vibe feels thrown together. The film attempts to nail its vibe desperately but never pushes through entirely. Repeatedly it opts for cop-out clichéd scenarios instead; the penultimate act of Kat and Bastian seeming to rekindle some sort of friendship is perhaps the most significant example.
Certain aspects in ''Marry Me'' could've been used to enhance its originality, such as Lopez's Kat being followed by someone documenting her day-to-day life. They could've capitalised on this aspect of the flick and made it into a documentary-style film instead of lazily translating the comic to every generic rom-com filler ever. The insistence of using background music in each and every scene is even more frustrating, while most films use their soundtrack and score to enhance certain scenes, it seems like Kat Coiro decided that viewers needed to be directly told how they should feel. This romantic overture ruins more scenes than it helps, leaving you feeling degraded as a viewer.
 ''Marry Me'' can be sweet but tastes sour, like Hollywood cheaply producing something to lure in sheepish lovers on Valentine's Day. 
---
Verdict
Marry me, say no.
6,0