Review
Medieval (Action, Drama, History) (2022)
Director: Petr Jákl
Writer: Petr Jákl, Marek Dobes, Petr Jákl Sr., Michal Petrus, Petr Bok, Kevin Bernhardt
Stars: Ben Foster, Michael Caine, Matthew Goode, Sophie Lowe
---
During the time of the Western Schism, the Kingdom of Bohemia is at risk of collapse. Seemingly a period of lawlessness, a now-famous Czech hero is tasked to kidnap the fiancée of the country's current ruler.

Inspired by the life of renowned Czech hero Jan Žižka, Petr Jákl has produced "Medieval", also called "Jan Žižka" in the Czech Republic. Being the most expensive movie in Czech filmmaking history, filming began in 2018 and took place exclusively in the region of Bohemia. Most of the casted stars are British, with the main character played by the American-born Ben Foster. It has been produced by WOG Film, J.B.J Film, Genesy, Double Tree Entertainment and KORD.Media and distributed by AQS nationally and The Avenue Entertainment in the U.S.

As Wenceslas IV (Karel Roden) rules the Kingdom of Bohemia and set to be the next Holy Roman emperor, his conflict with Henry III of Rosenberg (Til Schweiger) grows, and his reign is at risk. To ensure his ascension, Lord Boresh (Michael Caine) requests Jan Žižka (Ben Foster) to kidnap Rosenberg's fiancée leading to conflict and the rise of Jan Žižka's name in history.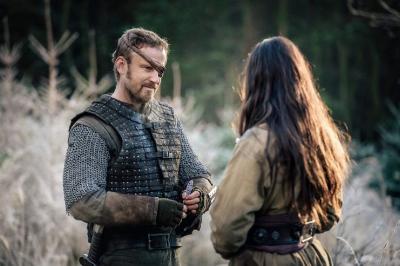 Focusing on Jan Žižka's early life, which historians often debate providing a canvas for Jäkl, "Medieval" shows a heroic yet unruly endeavour by the younger version of this medieval war hero. With political intrigue and confused religious fervour often clashing.

While we've seen similar medieval action dramas before, Jákl takes us further east to the Kingdom of Bohemia, which might not be the most refreshing, but it's certainly different. Caine's Lord Boresh, a fictional character, narrates the introduction making sure an unknowing audience is informed about the state of this medieval eastern Europe. Soon after, a skirmish occurs, as Foster's Žižka is introduced in a rather gory affair.


After the sunlit brookside skirmish, meant to lock in the viewer's attention, "Medieval" turns to a political drama in bleak blue-greyish tones, not unfamiliar to anyone who has seen such films before. The narrative is further developed, but even the hawk-eyed cinephile will soon be distracted by inter-connected plots and too many characters to keep track. Around thirty minutes in, there's a turning point, and Jan Žižka's tale is established far enough to provide some semblance of the narrative.

It's an interesting topic, but the Holy Roman Empire has always been a confusing period. Jákl wisely focuses on specific figures yet fails to provide a coherent endeavour. If anything, costumes and environments truly stand out and appear relatively accurate–only the script drags the entire thing to the mud.
---
Verdict
Yawn Žižka.
5,5


​