Review
Metal Lords (Comedy, Music) (2022)
Director: Peter Sollett
Writer: D.B. Weiss
Stars: Jaeden Martell, Adrian Greensmith, Isis Hainsworth, Phelan Davis
---
Two teenagers form a metal band, attempting to participate in their high-schools Battle of the Bands competition while going through all the expected drama of their age.
Written by the ''Game of Thrones'' series co-creator D.B. Weiss and directed by Peter Sollett comes this teenage comedy-drama with metal music as its main element. The film was mainly shot in Portland, Oregon, at Parkrose Middle School and Parkrose High School, with the Battle of the Bands sequence taking place at Revolution Hall. It has been produced by Kingsgate Productions and Bighead Littlehead while distributed by the Netflix streaming service.
Seemingly attempting to appear similarly to ''School of Rock'', or even ''Superbad'', ''Metal Lords'' has a rough time blossoming. The acting seems uninspired and as dry as an overcooked chicken at first. There are references to metal music, which is logically the over-arching theme, but also some passes at videogames and even directly showing a session of tabletop RPG ''Dungeons and Dragons''. It clearly tries to embrace geek culture in these moments, yet the delivery behind it has a way to go before impressing the geeky viewer that might give ''Metal Lords'' a chance.
As the initial scenes crawl by, perhaps the most positive thing about it is seeing all the posters, CDs, vinyls, and shirts of foundational metal bands, yet that is about the length ''Metal Lords'' travels within this short distance. Yet, while it does take time, you notice it distinctly once it hits its stride. Almost like the opposite of ''Game of Thrones'', It only seems to improve. Using the running time of about an hour and thirty minutes to its benefit, it keeps on hitting once it truly starts clicking.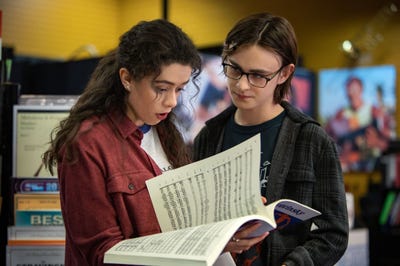 Sure, there are typical story beats every teenage-oriented film needs to hit, but besides that, there's an enjoyable story with characters developing properly, adding dimension throughout their appearances. Even smaller moments that writer D.B. Weiss seemingly forgot about are recaptured and wrapped up with a bow. While perfectly serviceable as a comedy, it improves for those into the actual music and perhaps even more so geek culture, having minor appearances for Stranger Things' Brett Gelman and actor Joe Manganiello, who's known for playing celebrity D&D. Even more delightful, however, are the cameos from some metal musicians in; Anthrax's Scott Ian, Judas Priest's Rob Halford, Metallica's Kirk Hammett, and Rage Against the Machine/Audioslave's Tom Morello.

It's genuinely a redemption within the script itself, ready to be unimpressed by yet another bland comedy, ''Metal Lords'' is the whole package, merging many things I know and love but without taking my bias into account, also being a tremendous picture in its genre.
---
Verdict
Rock on!
7,5