Review
Moon Manor (Biography, Comedy, Drama) (2022)
Director: Machete Bang Bang, Erin Granat
Writer: Machete Bang Bang, Erin Granat
Stars: James 'Jimmy' Carrozo, Richard Riehle, Debra Wilson, Reshma Gajjar
---
In a celebration of life... And death, Jimmy hosts his FUNeral, inviting important friends and family on his final evening.
Written and directed by a duo of female filmmakers in their debut, "Moon Manor" is a true-ish story of James Carrozo's life featuring real moments and footage of him and those close to him. It's been released limitedly in the U.S., produced by KnifeRock Productions and Minutehand Pictures, while distributed by Good Deed Entertainment. It can be streamed on Amazon, Apple TV, iTunes, Vudu and Google Play.
The art of living is the art of dying. That's one of the messages within this LGBTQ+ comedy-drama. While I immediately mention the aspects of LGBTQ+, that is not all the film tries to be. It's an examination of the eccentric Jimmy, who's done so many things, forming friendships, companies and now, due to his Alzheimer's and old age deciding to throw a going-away party before being guided to the afterlife by death doula Fritti (Debra Wilson). Not everything and everyone is as supportive of Jimmy's decision as his estranged brother Gordon (Richard Riehle) is a devout catholic and thus against such practices.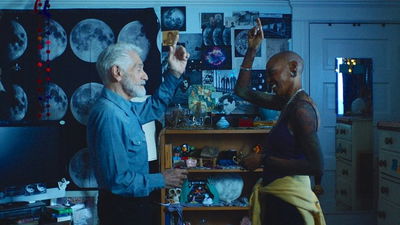 While in some ways a comedy, Riehle's character alongside Galen Howard's Terry being mostly the comedic relief pairing, "Moon Manor" is very much a Drama celebrating free-thinking and life itself. Guided along by Lou Taylor Pucci's Andrew as the viewers inside of the unique lifestyle and decision, "Moon Manor" raises moral and ethical questions all in such a natural manner. It almost feels as if you're visiting yourself and just as emotionally impacted when the inevitable final moments in Jimmy's life approach.

If the filmmakers and producers succeeded somewhere, it is how different the picture feels; it's filmic in ways, at times a light drama but mostly without special-feeling cinematographically, but perhaps that is why it works so well, accentuating the genuine feelings even more so.

It is about time to cut this review short; there's not much more to say apart from how genuinely impressive this relatively simple, open-minded feature debut is. I might not be involved in the rainbow spectrum that is called LGBTQ+ myself, and it's good to accept that as well. That, however, doesn't mean I cannot appreciate the message brought out here; I look forward to other kinds of projects by this duo and how they can further open up complex subjects in such a joyful yet heart-tugging kind of way.
---
Verdict
Fly me to the moon, let me play among the stars – Frank Sinatra
8,0