Review
Not Okay (Drama, Comedy) (2022)
Director: Quinn Shephard
Writer: Quinn Shephard
Stars: Zoey Deutch, Dylan O'Brien, Mia Isaac, Tia Dionne Hodge
---
Looking for recognition and internet fame, Danni Sanders (Zoey Deutch) fakes a trip to Paris yet lands herself in a much bigger lie than she intended after Paris is victim to a wide-scale terrorist bombing.
Both a commentary on toxic social media culture and a light-comedy drama, ''Not Okay'' is Quinn Shephard's latest picture lasting around an hour and forty minutes. Truly a film made for Americans in her generation; it's difficult to place the true intent of this project. It has been produced by Makeready and distributed by Searchlight Pictures on streaming service Hulu.


Unpopular and disregarded by her colleagues at her workplace, a magazine called ''Depravity'', Deutch's Danni finds herself depressed and unappreciated. After yet another disappointing meeting with her boss in Negin Farsad's Susan, she overhears someone mentioning a writer's retreat, giving her the idea to take time off and fake a trip to Paris. As Danni is supposedly in Paris, a terrorist bombing grips the world-famous city, and she finds herself creating a much larger lie than she could've imagined.
Despite the pessimistic narrative, ''Not Okay'' comes across as a bubbly, colourful and very Gen Z type-film, or as Danni calls it, Zillennial. Perhaps this point of view perfectly fits a generation raised in the age of social media, putting up appearances while riddled with self-doubt and other mental issues. The plot itself mostly shows how toxic that can be; while Danny seems clueless about what is a broachable subject, she's desperate to lure her stoner crush in O'Brien's Colin and gain the approval of those in her workspace.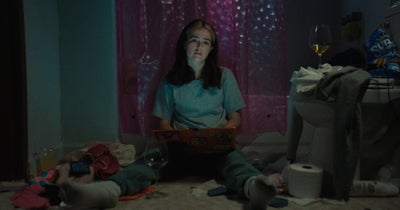 While it's certainly far from bad, there's a fine line between poking fun at and informing against the happenings inside of ''Not Okay''. Isaac's Rowan is pictured as a role model, holding rallies to push forward in a fight against victim-blaming. In contrast, others in the support group are shown as insecure and unimportant, countering the message. Perhaps it is something for a different generation, as I felt directly addressed by Rowan telling Danni about needing to explain Tik Tok to the ''boomers'' in her support group.
As most of the film shows the reaction towards Danni's experiences in France, there is relatively little time spent showing the negative portion – when the lie surfaces and she has to deal with the consequences of going from highly popular to perhaps the most hated. Whether it's insensitive or conflicts with its own message is challenging to say. In the end, it is a passable comedy drama.
---
Verdict
I'm not sure if such a subject is okay.
6,8