Review
Raya and the Last Dragon (Animation, Adventure) (2021)
Director: Don Hall, Carlos López Estrada, Paul Briggs (Co-director), John Ripa (Co-director)
Writer: Qui Nguyen, Adele Lim, Kiel Murray, Dean Wellins
Stars: Kelly Marie Tran, Nora Lum (Awkwafina), Benedict Wong, Alan Tudyk
---
In a world that has long ago been ravaged by shadow demons called the Druun. Peace has returned as the dragons who used to roam the land have sacrificed themselves to create a magical orb warding off the evil spirits for centuries to come. In an attempt to restore the divided nations into a united collective named Kumandra, the father of a young warrior named Raya (Kelly Marie Tran) calls everyone together for a feast, interests clash, and jealousy takes the upper hand as the orb that Raya's family has protected is shattered, and the shadow demons return turning everyone to stone.
As the newest Disney film with an original princess, ''Raya and the Last Dragon'' isn't based on any fairy-tale or legend. This follows the trend set by ''Brave'' and ''Moana''. With entirely original world-building and lore, Raya can be the shining example for Gen-Z and Alpha while, of course, being more than entertaining for past generations as well.
Effectively creating and explaining its lore and backstory within its running time is a feat on its own using a creative South-East Asian inspired world. Using that lore, the film plays out over five completely different areas: Raya's lush homeland of Heart, the arid desert of Tail, The murky waters of Fang, The snowy hills of Spine and the luxurious steppes of Talon. Raya herself is established as a tough warrior princess joining the ranks of figures like Mulan, Merida and Pocahontas. Despite being set up as a badass, she and the others around her never seem too powerful, and every single cast member seems balanced with their character, self-expression and motivation being believable.
At first, the shadow demons and story seem pretty stereotypical for a fantasy IP, yet some genuine surprises never make the plot too predictable or stale. The serious tale is enlivened with an assortment of comedic content that will make even the sternest people laugh.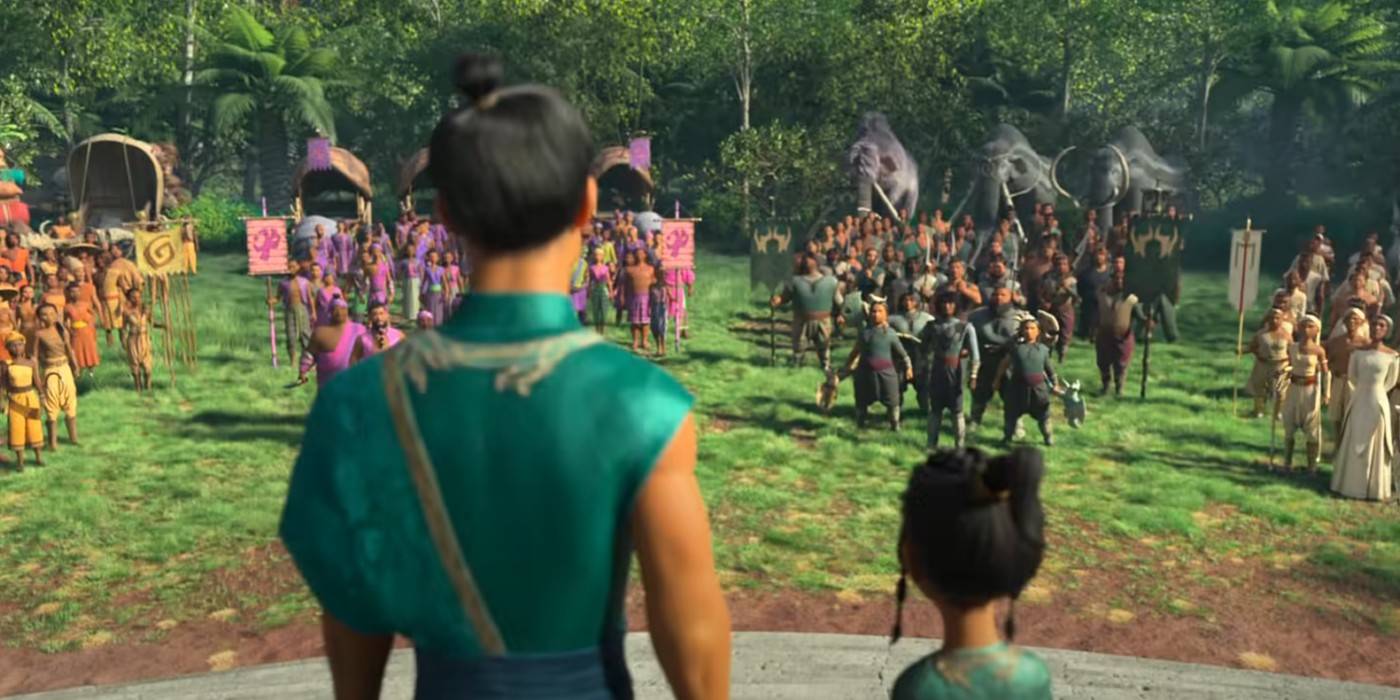 The Druun enveloping the inhabitants of this world turning them into stone with their shadow magic were never really meant to take up the antagonists' role, not more than the freezing cold on Mount Everest or the scorching heat in the Arabian Desert. Without overdoing the South-East Asian, there's plenty of influence to be felt, like the Chinese Terracotta Army inspirations, the inhabitants of Spine (More like a combination between Norsemen and Mongols) and the dragons that are more like a blend of ancient Chinese dragons and My Little Pony.
One of the last moments in the film does feel overdone and forced in its message, but it still served as a satisfying ending with some redemption for the would-be antagonist after such a marvellous adventure.
---
Verdict
An inspiring tale using South-East Asian culture effectively and excelling as a showcase for the newest Disney princess
9,0