Review
Safety (Sports, Drama, Biography) [True Story] (2020)
Director: Reginald Hudlin
Writer: Randy McKinnon, Nick Santora
Stars: Jay Reeves, Thaddeus J. Mixson, Corinne Foxx, Hunter Sansone
---
Safety tells the story of Ray-Ray McElrathbey (Jay Reeves), a freshman football player for Clemson University. During his time at university his brother Fahmarr (Thaddeus J. Mixson) reaches out from home, and Ray-Ray discovers their mother has been placed in rehab. After this discovery, he takes him along to college and harbours him against NCAA rules.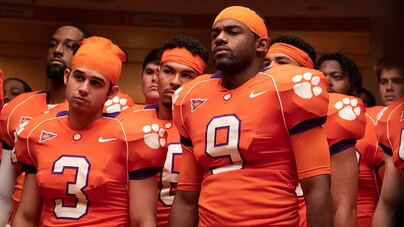 As with every true story, liberties are taken. Some changes, such as how Fahmarr ended up on campus, the relationship with Kaycee (Corinne Foxx) and several others.
Made for and aired on Disney+'s Safety is logically very PG. It stands out straight away but makes it an accessible and easy pick for family movie nights not having to be careful about violence, nudity, swearing etc. There is a lot of traditional heartfelt storytelling with classic ups and down, there's a lot of cliché's it works into, which can be seen as generic but at least it works in its favour despite not nearly everything being true to real-life.
It's an uplifting experience with is always welcome to me in the sports genre. There's simple yet effective acting, Luke Tennie who has a small role later on in the film stood out to me, with a few projects under his belt I can see him successful in the future as long as he's careful not to be typecast too much.
At already two hours running time, it isn't a short movie, and that explains what feels like a quick skip in time, shortly after Ray-Ray's arrival at Clemson the first 15 minutes move at breakneck speeds, trying to introduce and establish the most important characters as fast as possible before furthering the plot about harbouring a younger brother. Due to this at the start and even throughout some connectivity is missed, It's not that noticeable, but it is a downgrade on an endearing true to life story by Disney.
The relationships just as their introduction at the start move fast, the antagonist jock becomes friendly in-between one or two scenes and the relationship with Kaycee seems like it went from we just met to moving in together in about two weeks. Disney tries to work a lot into two hours and despite moving a little fast combined with it's PG qualities those are certainly not things that hold Safety down, if anything they might even work to its benefit.
---
Verdict
If you enjoy sports movies, you'll find safety in this one.
7,5