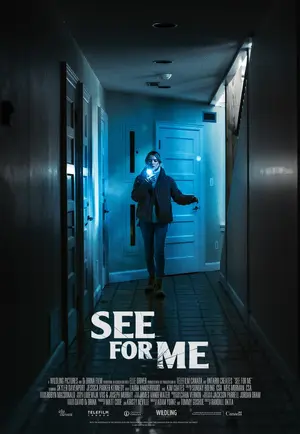 Review
See for Me (Crime, Drama, Thriller) (2021)
Director: Randall Okita
Writer: Adam Yorke, Tommy Gushue
Stars: Skyler Davenport, Keaton Kaplan, Jessica Parker Kennedy, Kim Coates
---
As visually-impaired former Skiing prodigy Sophie (Skyler Davenport) cat-sits in a secluded mansion, a group of thieves perform a pre-planned heist which Sophie discovers with the help of Kelly (Jessica Parker Kennedy), a volunteer assistant on a visual aid app called See for Me.

In his second feature film, Randall Okita pictures a thriller with a visually-impaired skier as the main character. With the casting of Skyler Davenport, an actress with visual impairment. The film has been produced by Wildling Pictures and Di Brina Film while distributed by levelFilm and currently streaming on Netflix.


Former Skier Sophie Scott has her Olympic dreams go up in smoke as she's been diagnosed with a degenerative eye disease, rapidly causing blindness. As her newly-developed disability perturbed her, she's started cat-sitting for wealthy homeowners, committing petty theft wherever she is hired. Her latest job turns extra-complicated when she's woken up late in the evening and, while exploring the mansion with a visual aid assistant, discovers robbers have broken in, aiming for far more than petty theft.

In terms of thrillers, the plot written isn't exciting nor ground-breaking in any sense. Still, the severe tone combined with using a visibly-impaired character creates something differing from a cheesy ''Home Alone'' reboot. Introducing Davenport's Sophie Scott, it seems clear she is quite well-off, only disgruntled by her dreams in sports dashed due to a handicap —mouthing off to her mother and committing petty crime illustrates an unlikable protagonist.


Progressing forward, ''See for Me'' uses seemingly minimal time invested in exposing the meatiest chunk of the narrative told. Still, the characters we need are introduced and established reasonably well. Balancing the deplorable antics of Davenport's Sophie is Parker Kennedy's Kelly, assisting her in doing whatever's necessary, being an army veteran who has been volunteering for the See for Me app on the side. That part of the introduced visual impairment aspect was surprising, having never heard of such an app being available and used. It is, in fact, an existing tool for those with such disabilities.

The specific casting requirement and the use of genuine aids to such a person brings a mildly entertaining crime thriller to ever-so-slightly elevated heights. An added bonus is Jessica Parker Kennedy's appearance, perhaps most known for TV series ''The Flash'' alongside Kim Coates from ''Sons of Anarchy'' fame, near the film's end. ''See for Me'' injects just enough freshness into an overdone-type film, alongside providing enough tension throughout to keep the viewer on their toes.
---
Verdict
Don't allow someone else to see this for you; see it yourself.
7,0