Review
Shattered (Thriller) (2022)
Director: Luis Prieto
Writer: David Loughery
Stars: Cameron Monaghan, Lilly Krug, John Malkovich, Frank Grillo
---
Recently divorced, and having sold his company, Chris Decker (Cameron Monaghan) lives in a luxury mountain home. In an attempt to distract himself, he starts dating a young woman. Before long, things start getting past him, and before he can realise it, he has been conned, and it's already too late, as his new girlfriend Sky (Lilly Krug) tries to rid him of every dollar he owns.
Directed by Spanish-born Luis Prieto and written by David Loughery ''Shattered'' is a fairly typical thriller with psycho horror tendencies. Due to Covid-19 restraints, it was filmed in Big Sky, Montana, over the course of twenty-one days. Producing the film were Silver Reel, and Construction Film, while Lionsgate and Grindstone Entertainment group distributed the picture.
In a sombre introduction to Monaghan's Chris Decker, we discover he's divorced and having a rough time getting over his ex-wife. As Chris throws himself into this new relationship as a coping mechanism, the viewer has little time to re-adjust, and the vibe it had at first seems to be placed on the backburner before re-introducing it in some ways. While it moves on fairly quickly, these initial moments do set a decent tone with the large, secure mountain home having a great atmosphere, as well as the nearby motel. If anything, ''Shattered'' generally feels glossy and polished, which is most certainly beneficial.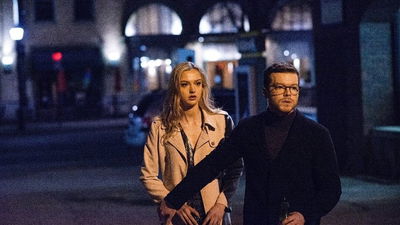 As the cinematography is being recalibrated, there are some alluring narrative moments. Yet, these tend to fade into a cookie-cutter thriller endeavour, which is not overly surprising reading the film's title. The admittedly thin plot progressively worsens with a creepy romance between Sky and Chris, preparing the viewer for supposedly shocking twists. As the action is at full throttle, it becomes genuinely implausible, and moments intended to appear intelligent and disquieting feed into the film's lack of reality.

The acting itself, while not spectacular, isn't too bad; it fits the style it went for, but as it searches for genre identity for a while, the fact that the characters aren't that great and everyone apart from Chris, his ex and their child being immoral in some way only hurts it more. Perhaps the worst example of this is Malkovich, who seems to be playing a similar role compared to past movies yet decidedly more creepy with comedic flashes, ruining the vibe trying to be presented by the film at first, not meshing well with the rest of the ensemble. Grillo should've been a good addition, but it turns out stagnant and makes the storyline even worse; a focus on Krug being the sole antagonist would've made more sense instead of stealing her spotlight in some failed redemption lines.
If Prieto and Loughery succeeded in one thing, it'd be ruining their own film by making it too much more than it should've been.
---
Verdict
A shattered mess of a movie.
5,7