Review
Soul (Animation, Adventure) (2020)
Director: Pete Docter, Kemp Powers
Writer: Pete Doctor, Kemp Powers, Mike Jones
Stars: Jamie Foxx, Tina Fey, Rachel House, Richard Ayoade
---
Jazz pianist Joe (Jamie Foxx) has found himself stuck in a rut. Having imagined his life to be a certain way, and never achieving the goals he aspired to; leading him to teach middle school band practice. In a stroke of luck Joe gets contacted by his friend Curly (Ahmir Khalib Thompson "Questlove") who offers him the chance to play in Dorothea Williams' (Angela Bassett) famous jazz quartet. Coming ever closer to realising his dreams, everything gets interrupted when Joe missteps into a pothole, and his soul ends up in a purgatory-like space.
The meticulously stylized Soul is the second animation adventure we're treated to by Pixar this year. Instead of a world stretching adventure as in Onward, we go inward examining how personalities are formed and where the passion of life truly comes from.
The light, cartoony characters, and more realistic cityscapes create a balance while also using an immense amount of subtle visual cues directly pertaining to Joe's character while in the dream-like Great Before and Great Beyond setting. Despite the themes of death it introduces, it is as light-hearted as Pixar films go, becoming a journey of teaching to young and old alike. Within character arcs, the life lessons aren't all too obvious throughout, yet it does get explained to the main character eventually as he comes to terms everything. The internal structure to the Great Beyond is quite entertaining as personalities like megalomania are seen as a slight, children's personalities getting assigned by the caretakers willy-nilly. When both the main character of Joe and 22 (Tina Fey) meet, there's a satire about previously deceased historical figures like Sigmund Freud, Muhammed Ali and Mother Teresa. Most children will likely laugh about these cartoon figures blowing their lid while trying to teach the young soul of 22 adults will understand the definitions of the observations made by these characters.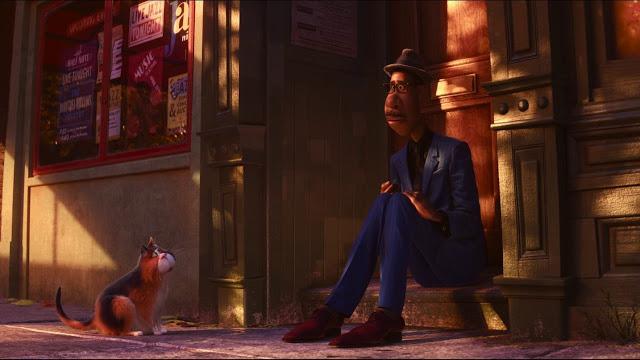 With the story's development being so focused on life, death and finding the meaning of life, The music fades into the background even though it's widely used in the soundtrack and story content.
Going along with a theme set in other movies in recent history Soul is a portrayal of Afro-American culture, while certainly having a certain appeal shouldn't be defined as a selling factor. Diversity should be cinematically attained naturally, and Soul does this well, not feeling forced to portray a specific culture group yet still doing so, purposefully.
After being introduced to all the intricacies and story elements, Soul handles the ending great, although there might be one change I'd make it was a good way of letting things come full circle.
---
Verdict
An animated movie with a Soul of swing.
8,6