Review
Sundown (Drama) (2021)
Director: Michel Franco
Writer: Michel Franco
Stars: Tim Roth, Iazua Larios, Charlotte Gainsbourg, Samuel Bottomley
---
While vacationing in a Mexican resort, the Bennett family, consisting of Neil (Tim Roth), his sister Alice (Charlotte Gainsbourg) and her children Alexa (Albertine Kotting McMillan) and Colin (Samuel Bottomley), are suddenly informed their mother has been hospitalised, and it isn't looking good. They prepare to rush home, boarding the earliest flight back to London – as they arrive at the airport, Neil has seemingly lost his passport and elects to stay behind as a ploy to shift his way of life drastically.

Premiering at the Venice Film Festival, ''Sundown'' presents an unusual drama by writer and director Michel Franco, who was born in Mexico himself. It's an international production that further establishes a previous partnership between Roth and Franco, having worked together in ''600 Miles'' and ''Chronic''. After being shown at film festivals, Bleecker Street acquired distribution rights, and the film has been produced by Teorema, CommonGround Pictures, Luxbox, and Film I Väst.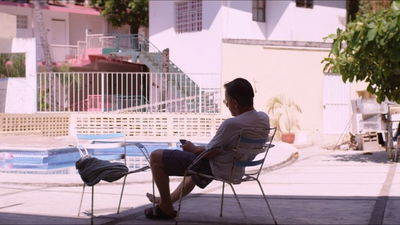 From the outset, it's pretty clear that ''Sundown'' won't be your typical drama film – yet what it becomes could surprise even the keenest film enthusiasts. It isn't flashy, nor does it present as a typical film; seldomly does Franco take the time to explain its simple yet baffling plot and perhaps it isn't meant so.

Roth's Neil is shown to be a listless man, and whether bored of his old life or meaning to make things difficult for his relatives, his actions make little sense. At first, you're shown what seems like a normal vacation, yet the seeds are already sown as everyone except Neil is trying to enjoy themselves. After the passport situation at the airport, it truly gets captivating, however. The shift from a luxurious resort to an honest view of the Mexican streets is sudden and somewhat shocking; here, the director intended to provide scenes shot without closing off any streets and not using any extras to make it as authentic as possible.


It could certainly be seen as a depressing film, not trying to appear positive or even provide a likeable protagonist, yet this is where it appears unusual, fresh and positively frustrating. The risk of using an unlikeable character is immense, and it's an applaud-worthy attempt. Despite seemingly not having any rhyme or reason, ''Sundown'' is captivating due to Roth's inexplicable behaviour.

For a man of wealth to abandon his old life and move to a poorer country isn't strange; it happens more often than you might think, but the family drama and their bewilderment make it even grander. In some ways, the family is a portal to the viewer's observations. Not aiming for some grand finale or enlightening conclusion, ''Sundown'' simply exists. Some reasoning is eventually given, at least that is what it seems like, but the lack of any clear answer both shows a film respecting the audience and open to interpretation 
---
Verdict
While the sun slowly sinks beneath the waves, this film feels like a sunrise of experience.
7,9