Review
The Adam Project (Comedy, Family, Sci-Fi) (2022)
Director: Shawn Levy
Writer: Jonathan Tropper, T.S. Nowlin, Jennifer Flackett
Stars: Walker Scobell, Ryan Reynolds, Mark Ruffalo,  Zoe Saldana
---
Fleeing the year 2050, a time-travelling fighter pilot crash lands in the past, meeting his younger self in the process. Together they embark on a mission to save the future from a totalitarian ruler.
Short on the heels of Reynolds' latest projects, "Red Notice" and "Free Guy", comes Shawn Levy's "The Adam Project". A light-hearted sci-fi adventure that had already been theorised back in 2012. Landing the initial interest of Paramount, Tom Cruise was actually meant to star as the older Adam, yet it never came to fruition. Eight years after the fact, the film was renewed, with the final title being distributed by Netflix instead and starring Reynolds. It has been produced by Skydance Media, Maximum Effort and 21 Laps Entertainment.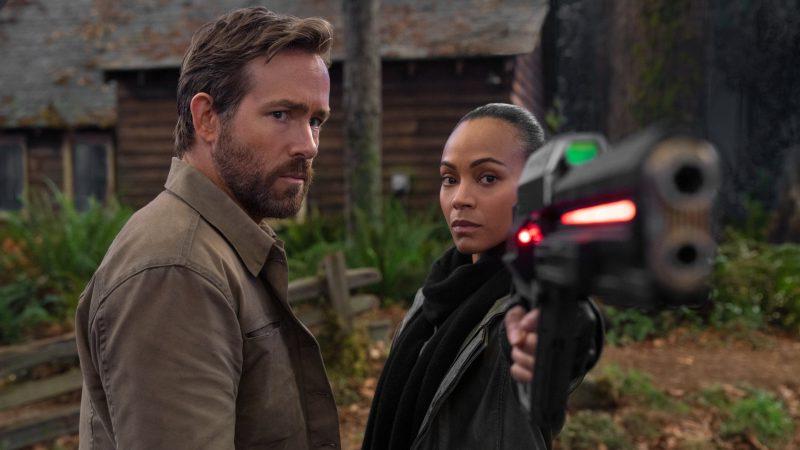 It seems like Reynolds is quite the commodity nowadays, and fairly so. Appearing in a few films with large marketing budgets behind them, the actor isn't only popular with producers and directors but in the eyes of fans as well. Not being a huge fan of either "Red Notice" or the better "Free Guy", it was actually enjoyable to see him this time around in "The Adam Project" alongside Marvel alumni Mark Ruffalo and Zoe Saldana. As an actor, it could be suggested that he'd play something other than the typecast action/comedies. Yet again, these films are what made him so famous after all.
Looking at the movie itself, it feels like an accessible and family-friendly sci-fi flick that is easy to understand. It's pretty easy to complicate scripts featuring time travel, but Levy and his team of writers ensured it wouldn't veer off far in that direction. Being somewhat outlandish, it finds the right balance in doing so, implementing Reynolds's humour, a romantic interest, and enough focus on the aspects of a young family to have a coherent and wholesome picture. It isn't all sunshine and rainbows, though; it can get somewhat dark and might feature some profanity not suitable for every family. Still, from my point of view, it's a delightful side venture for Netflix and the best fit in a while for Reynolds, acting alongside his young co-actor Walker Scobell.
The storyline is simple as aforementioned, and the rules of other time-travel films seem to be constantly broken, but that's alright. There's perfectly suitable VFX that doesn't stand out too much but certainly isn't bad. They're apparent yet unnoticeable if that makes any sense... I'm trying to say that they fit perfectly within the suspension of disbelief.
Darker tones and balanced aspects in the story make "The Adam Project" suitable for any family with teenagers looking for a fun movie night. It's not ground-breaking and easily forgotten but does what it needs to within a sub-category of Netflix viewing.
---
Verdict
We might get the Eve project next, and I wouldn't be mad at it.
6,7