Review
The Bubble (Comedy) (2022)
Director: Judd Apatow
Writer: Judd Apatow, Pam Brady
Stars: Karen Gillan, Guz Khan, David Duchovny, Leslie Mann
<hr style="width: 100%;" />
---
Working on the sixth iteration of the wildly successful film franchise ''Cliff Beasts'', its crew tries to stay sane as they're in a pandemic bubble taking every precaution to keep everyone healthy while filming their next big project.
As a parody on Hollywood executives trying to keep producing movies throughout the COVID-19 pandemic, Judd Apatow and Pam Brady made this direct satire on the ''Jurassic World: Dominion'' production. The film was produced by director Judd Apatow's company Apatow Productions, while streamed and distributed by streaming service Netflix 
While the pandemic has hardly passed, Apatow and Brady thought it would be the perfect scenario for a comedic venture in the Hollywood environment. ''The Bubble'' certainly isn't the first to tackle such a subject; look at last year's ''Locked Down'', ''Together'' and several other films; however, it inspects a different setting, namely, the film industry. In addition, it does feature a notable cast with Karen Gillan, Leslie Mann, Pedro Pascal, among many others, even giving David Duchovny some time in the sun again. And as if those names weren't enough, there are a ton of cameos by actors like Ewan McGregor, Benedict Cumberbatch and Daisy Ridley, to just name a few.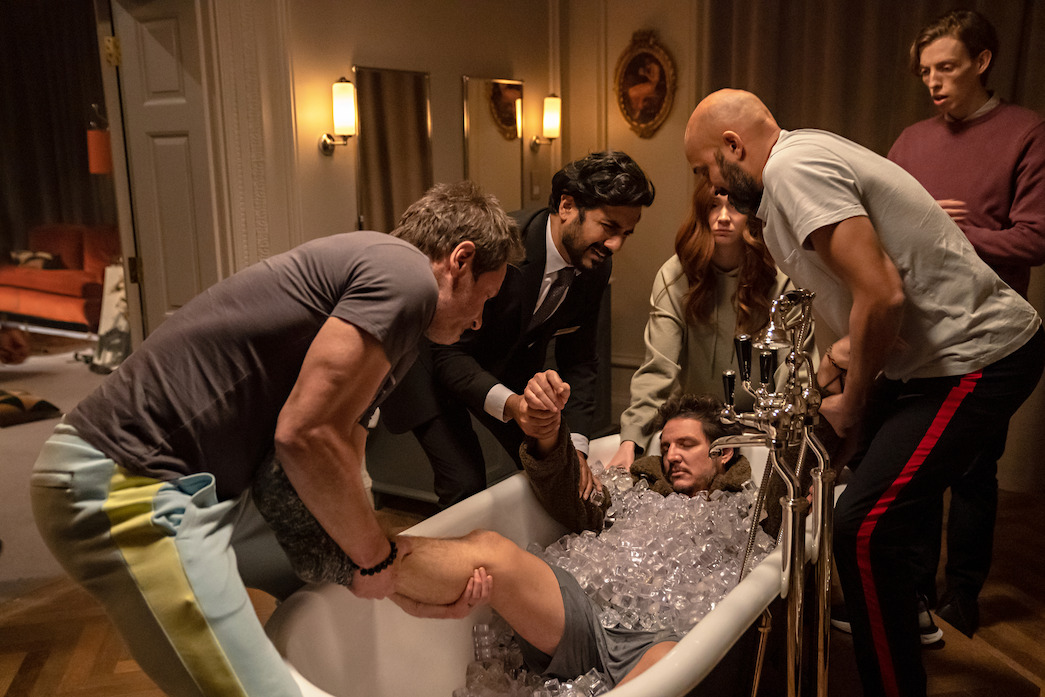 With that cast, cameos and a significant budget, you'd assume the film would be an absolute bubble burster; sadly, the opposite is true. It's an absurdist film, and there will be viewers that'll get a laugh out of the feature, but that wasn't my experience. ''The Bubble'' seems like a convoluted dumpster fire, prone to getting lost within different character arcs and boundless terrible one-liners pretending to be amusing. The fact that they managed to keep Keegan Key from being a modern comedy mastermind is perhaps the biggest accomplishment.
Admittedly there were small nuggets of promise hidden within some character arcs, such as Pedro Pascal's Dieter Bravo being blue balled, desperately looking for a partner in a scenario where everyone is meant to be isolated. Yet, not even minor portions of this poor excuse of a comedy were exempt from the ginormous cringe-factor and the rapid-fire of jokes you'd expect from a small-town stand-up set.
If it all weren't enough yet, I'd like to tell you it lasts an abominable two hours, which despite being the norm for most films nowadays, is far too long for this clusterfuck parading as a comedy. With that, I'd like to end reviewing ''The Bubble'' on a  good note, with an excellent recommendation in recent absurdism, also featuring Keegan Key. Which would be Netflix's Michael Myers series ''The Pentaverate'', then again, anything is better than this money-sink of a flick, and you can't beat the Canadian legend Michael Myers of ''Austin Powers'' fame.
---
Verdict
Like any bubble, this one just floats up and bursts.
2,0