Review
The Call of the Wild (Family, Adventure) (2020)
​Director: Chris Sanders
Writers: Michael Green (Screenplay), Jack London (Based on novel by)
Stars: Harrison Ford, Omar Sy, Cara Gee, Dan Stevens
---
Seemingly living an average dog's life, Buck is a large, rambunctious cross-breed that often appears to be a nuisance to his household. Loved or not, during his escapades in town he gets spotted by a covetous figure, unbeknownst to Buck's owners that same figure drives up to their home and kidnaps Buck.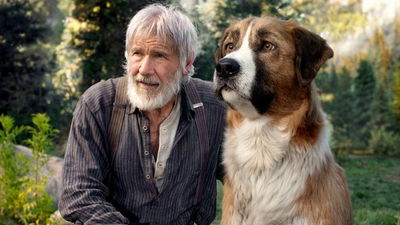 Sold and on his way to Alaska; Buck finds himself in unfriendly circles and has to get used to a new life as a sledding dog. At this point, we've seen Buck for a while, but now he really starts filling the leading protagonist shoes. It has been done many times before but is nevertheless unusual to entirely focus on a CGI person/creature as the lead.
Before finally watching The Call of the Wild I heard a notable amount of criticism and bad press on this film, admittedly it also ended up in my pile of "Yet to watch movies" even though it came out at the start of this year. But I'm delighted to have had the chance at this point in time; it's perfect for watching, approaching the festive season.
Seeing it, CGI is the largest point of conflict within the film. They might've not quite nailed it, but Buck looks realistic, and so do the other dogs, it takes a little bit to get used to, but the effort put into the effects is noticeable. Buck's interactions with his surroundings and being supported by the sound effects it is a good depiction which undoubtedly took immense effort.
The Call of the Wild has several story arcs or chapters, starting with Buck being back home and eventually ending up with John (Harrison Ford). While the stories within could be seen as overly simplistic and too scattered, they all served a purpose leading to a conclusion in the main character's path. You could criticise that most characters apart from Buck and John don't get any closure for the viewer, but neither does that happen for many other films, omitting some all-time greats.  As a light-hearted family movie, it works just as it should, with abundant characters within all parts of the film and a different setting of Alaska during the Klondike Gold Rush.
All-encompassing I think The Call of the Wild works in what it tries to achieve, with some faults throughout like backgrounds done with bluescreens on big set-pieces looking off. What I would've preferred to see is some more realism, Buck is so heavily imprinted with human emotion, just becoming this highly intelligent creature, the expressions are so well done, and I applaud that part of the effects. Still, it was very borderline on keeping some realism and going over the top.
Most importantly I see this film as an achievement to the creators making an audience care about a creature we know is CGI but still can bond with, and within that, a fun story great to watch for families, so eat your heart out Dolittle!
---
Verdict
Excitement, adventure, emotion and tons of CGI.
7,2