Review
The Fabelmans (Drama) (2022)
Director: Steven Spielberg
Writer: Steven Spielberg, Tony Kushner
Stars: Gabriel LaBelle, Paul Dano, Michelle Williams, Sam Rechner
---
Following the life of a Jewish family from the 50s to 60s, aspirations are realised through hard work, and family secrets are painfully discovered through the lens of a film camera.

Loosely based on Spielberg's adolescence, "The Fabelmans" looks into his youth while portraying itself as a fictionalised drama, allowing a genuine family tale. The project was conceived as a concept in 1999 to be written by sister Anne Spielberg. Due to concerns about the reception by their parents, it was withheld until 2019 during the production of Spielberg's "West Side Story", which had Tony Kushner involved. In September 2022, "The Fabelmans" debuted at the Toronto International Film Festival. It has been produced by Amblin Entertainment and Reliance Films while distributed by Universal Pictures.

Through the span of around a decade, we follow The Fabelmans — a Jewish family. Father Burt Fabelman (Paul Dano) worked in computers as an electrical engineer, and Mitzi Fabelman (Michelle Williams), a former pianist. As the couple takes young Sammy Fabelman (Gabriel LaBelle) to the theatre for the first time, the boy is shocked yet fascinated by what he's seen. To his father's displeasure, he recreates the movie's train crash with an expensive model train to experience it once more. His mother hands him a camera to film it so they can rewatch it at any time, forming a passion for years to come.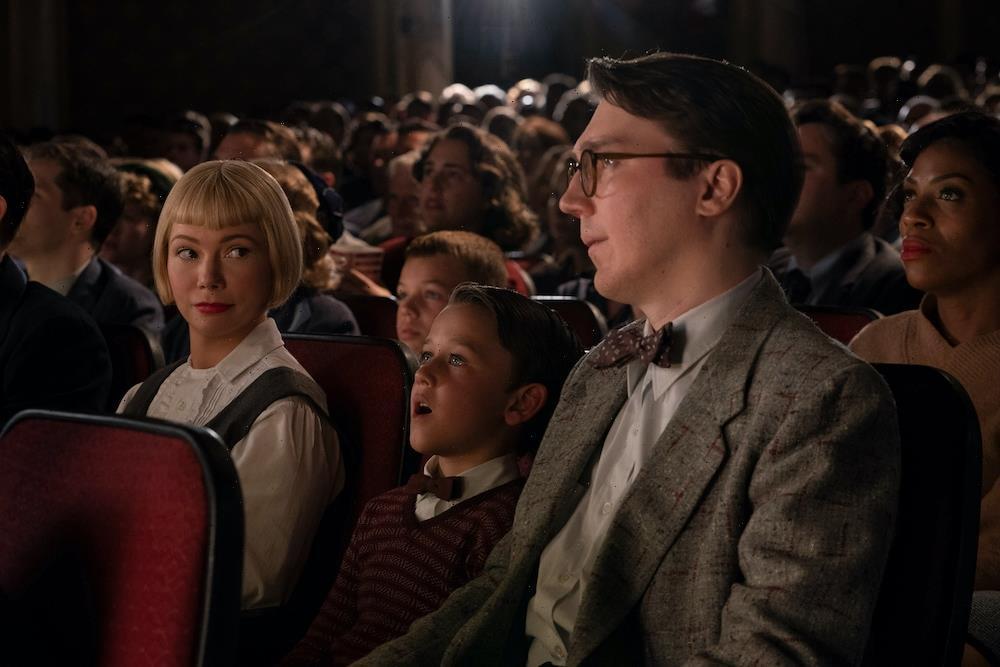 Every person and every family has a story. Some mundane, others extraordinary — Yet, all invaluable. Spielberg's semi-autobiographical "The Fabelmans" allows us to experience but a glimpse of the challenges one of these families faces. Developing skills, going through life teaching act and consequence hopefully evoking a prosperous life.

Back in 1952, LaBelle's Sammy is alongside his parents in front of the theatre; they're reassuring the young boy that what he's about to witness isn't real. Perhaps a riddle by Batman villain, The Riddler. I was frightened we'd see Thomas and Martha Wayne murdered again — Luckily, "The Fabelmans" took a different turn. A scene in the classic "The Greatest Show on Earth" film by Cecil B. DeMille is projected on the silver screen, leading Burt and Mitzi's son in a state of shock. A mere seed quickly sprouts as an interest blossoms for the young boy.

The development of this passion is conveyed within a compelling few scenes, cause and effect. Obviously, LaBelle's character is based upon Spielberg himself, the name Fabelman a nod to his real surname in Yiddish. While this seems like a drama that won't be everyone's cup of tea, I'd scratch my scalp at those who fail to recognise some craftsmanship surpassing many past films. Narratively, "The Fabelmans" could be even as adept, if not more-so — a gentle picture with a wealth of observations. As the storyline moves forward, there's time allowed for the viewer to puzzle it all together, leaving other parts necessarily obscured.


Chiefly a heavy-drama, there's a fluidity to its characters. To most, Seth Rogan's Uncle Bennie would be the most obvious example. His usual jovial-self shines through as much as the car headlights through Mitzi's gown, but touches of drama present in a contending role with Dano's Burt, which is later fully established within the narrative. In many senses, "The Fabelmans" feels traditional yet stunning and innovative, a combination seldomly seen. A scene when Sammy can be seen in his room editing a tape featuring a camping trip with his family, Mitzi's playing her piano as a soundtrack from the other room. In more than a singular way, "The Fabelmans" reminded me of my love for genuine cinema, not mass-marketed Superhero flicks meant as accessible entertainment — not saying these don't have their place. But, a complicated and intricately woven narrative that inserts just enough to provide reasonable expectations and tells the viewer a sufficient amount, also having slight tones of jesting towards its own constitution.

Quiet and gradual — part auto-biography, it never becomes self-indulgent. It focuses on the right things at the right time, performance, execution, and craftsmanship, showing Spielberg more-than deserves his legendary name.
---
Verdict
Not just a Fable.
9,5