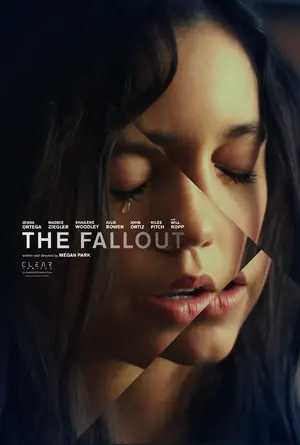 Review
The Fallout (Drama) (2021)
Director: Megan Park
Writer: Megan Park
Stars: Jenna Ortega, Lumi Pollack, Maddie Ziegler, Will Ropp
---
In the fallout of a school shooting, high-schooler Vada Cavell tries to recover from the psychological trauma it has inflicted upon her, making sense of the world along the way.
Released as an HBO Max exclusive, ''The Fallout'' serves as the directorial debut of Megan Park. Premiering at South by Southwest earlier in 2021, it was released online on HBO's exclusive streaming platform in January of 2022.
Megan Park clearly isn't fearful, coming out of the gate with a difficult topic. It's quite respectable that she decided to tackle such an intense topic as a debut feature, perhaps even able to open some eyes about the harmful effects of America's gun policies, remaining dangerous despite restrictions  
While slowly easing into the film's setting, showing the regular suburban life of Cavell's family, it suddenly shocks the viewer as much as the character's on-screen in the defining moment setting up the rest of the narrative. Director Megan Park intelligently captures such a harrowing scene as the camera remains inside a school bathroom. Instead of showing violence, opting for such intimate moments shows wisdom beyond Park's years, using but the sounds and expressions of emotion on the young actor's faces. It's such effective imagery and not the only instance in this film, as even in the aftermath, it uses some minimal scenes whilst still selling the impact behind it.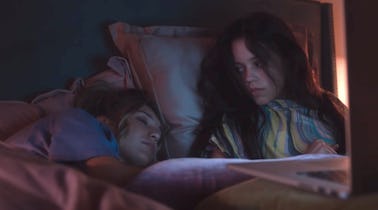 Besides the heavy topic, it attempts to slowly but surely develop Ortega's character, even introducing some slight comedy moments showing the directors history as a comedy actress. Alongside the performance of Jenna Ortega come some significant others like Niles Fitch, Maddie Ziegler, John Ortiz and Shailene Woodley; they all tie the story together perfectly, serving their own vital moments in the plot. Casting seems impeccable, especially in the case of the Vada family, who all seem to fit together realistically.
With the unexpected yet incredible directorial prowess and good camerawork selling those emotional moments also comes a shining soundtrack, a combination of dramatic tones, emotionally dulling ambience and some sounds contrasting with what the students are going through. Combined, these things seem to create a genuine teenage drama with a believable atmosphere. As long as Megan keeps this up, she is most certainly a director to look out for, and I'd gladly perceive ''The Fallout'' as the door-buster for 2022, looking onward towards many great films.
---
Verdict
If this is the fallout, I'd love to see what the recovery is like.
8,2