Review
The Guilty (Thriller) [Based on Foreign Film] (2021) 
Director: Antoine Fuqua
Writer: Nic Pizzolatto, Gustav Möller (Based on original film by), Emil Nygaard Albertson (Based on original film by)
Stars: Jake Gyllenhaal, Riley Keough, Christina Vidal, Peter Sarsgaard
---
When temporary First Response Operator Joe Baylor is called by kidnap victim Emily Lighton, he has to resolve the situation efficiently and de-escalate so that the officers can lead it to a peaceful conclusion.
With film rights acquired by Jake Gyllenhaal after the release of ''Den Skyldige'' Antione Fuqua was chosen to direct the project. This foreign film remake premiered at the Toronto International Film Festival, later being distributed worldwide on Netflix.
To remake foreign films for an English-speaking audience is certainly a bit of a trend. To call it a negative development would be false, in my opinion. There are plenty of people who wouldn't often watch foreign films, which is not because of ignorance or any other malicious reason. Adaptations such as ''The Guilty'' can certainly give those people who prefer seeing content in their own language an easier way to experience the same story. Still, in a form, they can more easily digest.
While this redone iteration of ''Den Skyldige'' has undoubtedly gotten some Californian polish thrown on top with a large forest fire shown on big flatscreens, it remains incredibly accurate to the source material. Comparing them to each other and having seen both, I can honestly say they're almost identical with only slight variations. ''The Guilty'' features a more modern-looking call centre with the added character of Sgt. Denise Wade (Christina Vidal), who acts like a team leader overlooking the floor of Dispatchers. Also, adding more character drama between those seen on camera, which is something ''Den Skeldige'' shied away from to deliver a more engaging narrative with the kidnapping call. Apart from those flecks of difference, it is fair to say that the Danish original had a more effective ending sequence, even if it's just slightly.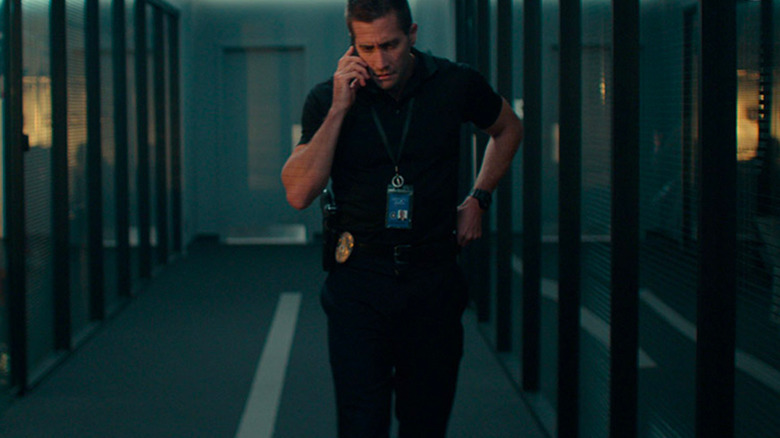 Despite being surprised by the additional cast, Gyllenhaal has the most prominent role. His performance seems to recall some past parts like ''Prisoners and ''Zodiac''. Returning to a seemingly flighty and unstable character. It's a commendable performance nonetheless and a solid thriller addition for 2021.
It's an excellent film despite being slower-paced and not having much apart from an engaging narrative. Where thrillers are concerned, this might be one of the better ones this year, but apart from that, it doesn't stand out enough to create the blast it needs to.
---
Verdict
Like any call centre job, without the tedious nature of actually working there.
7.1