Review
The Ice Road (Action, Drama) (2021)
Director: Jonathan Hensleigh
Writer: Jonathan Hensleigh
Stars: Liam Neeson, Marcus Thomas, Laurence Fishburne, Amber Midthunder
---
To save several trapped miners after a collapse, a group of Ice Road truckers need to make a near-impossible journey to reach the mining settlement before the oxygen in the mine runs out.
Having written for "Jumanji" and its reboot along with "Die Hard: With a Vengeance" and several "Indiana Jones" projects. Jonathan Hensleigh has quite the action/adventure genre portfolio, and thus the creative "The Ice Road" could be pretty exciting.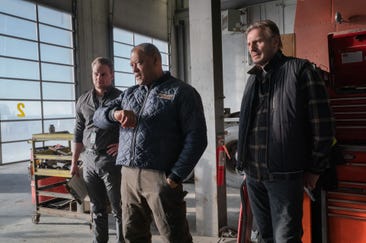 Showing out with a mine collapse, "The Ice Road" sets up a seldomly seen location leading up to a fairly unique rescue mission. While that opening doesn't quite impress as it needs to, with
 some wonky CGI work, you can look past it when Liam Neeson's part as Mike begins. Later supported by Laurence Fishburne, the cast for this Netflix release is pretty good. As the plot slowly develops, it has some charm to it; Mike and his brother Gurty (Marcus Thomas) (Who suffers from Aphasia) get hired by Jim Goldenrod (Laurence Fishburne) after struggling to hold a job anywhere due to Gurty's affliction.
As "The Ice Road" nears thirty minutes of running time, it seems different enough as a Neeson film and is quite enjoyable. Most lesser known actors do a fair job with characters fitting well in a refreshingly different action-based plot. The combination of solid acting, famous actors such as Neeson and Fishburne and a funky Country/Americana soundtrack while rolling on the ice in some big-rigs just set a boyish grin upon my face. That whole part seemed like a good fit for the ageing lead actor, not including much or any hand-to-hand combat and instead focusing on some excellent character work. As far as action goes, it had to include something, and that's where the Ice Road comes in; the task of Goldenrod and his fresh hires is meant to be dangerous, and not long before they're on the ice, the intensity bumps up, and that seemed to be enough.
Nevertheless, at about thirty to forty minutes, it throws a drastic plot twist upon the so far enjoyable start, slowly turning the whole experience on its head. From this point forward, most logic is thrown out of the window, with several cracks starting to show before the entire film, and the viewer's interest plunge into the icy depths. What could've been a different original kind of Neeson drama with compelling storytelling in a unique rescue mission which would've faired fine on its own just shifts drastically to a ridiculously perplexing and overly-flawed film.
Comparing "The ice Road" with other Liam Neeson action flicks, it was somewhat entertaining and could be fun for a Neeson centred movie night. As a Liam Neeson fan, despite the heavily flawed narrative after the shift in storytelling, I'd say it does make the cut in that department, just being enjoyable enough with proficient acting. Even though I got some enjoyment out of it, I wished better for all actors involved, the effective story progression and tension-building just being ruined by a dubious plot.
---
Verdict
In the end, "The Ice Road" finds itself on thin ice, unable to outrun the cracks.
5,9