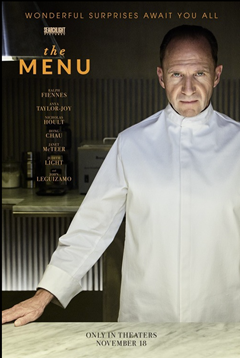 Review
The Menu (Horror, Thriller) (2022)
Director: Mark Mylod
Writer: Seth Reiss, Will Tracy
Stars: Ralph Fiennes, Anya Taylor-Joy, Nicholas Hoult, Hong Chau
---
An admirer and food fanatic takes his date to an exclusive island restaurant owned by a celebrity chef. Their dinner quickly devolves into the most shocking experience anyone invited has ever had.

Primarily known as director and producer for shows such as ''Succession'', ''Shameless'' and 2004's ''Entourage'', Mark Mylod creates his fourth film ever alongside Seth Reiss and Will Tracy, with Adam McKay, Betsy Koch and Will Ferrell serving as producers. ''The Menu'' debuted at the Toronto International Film Festival, seemingly an atypical blend of horror and comedy within a thriller style. It has been produced by Hyperobject Industries, Gary Sanchez Productions and TSG Entertainment while distributed by Searchlight Pictures.

Spending an exorbitant price to dine at the restaurant of Julian Slowik (Ralph Fiennes), Tyler (Nicholas Hoult) takes a boat alongside his date Margot (Anya Taylor-Joy) and several other high-profile guests to the isolated, exclusive location. As they arrive, they're given a brief tour of the island, where everything is caught fresh and made by hand; once taking their seats in the establishment, they're baffled by the presentation and courses themselves, soon to uncover this is far from the usual dining experience.


Reflecting on fine-dining and the pressure of becoming an acclaimed chef, ''The Menu'' criticises food culture and mainly the filthy rich, flaunting their wealth and living in a fantasy of disillusionment—guests are provided with a taste of their morals and mistakes.

Meticulously plated, ''The Menu'' provides a horror for a defined palette while remaining accessible for those less-experienced with such juxtaposition in genre. At first, it seems Nicholas Hoult's Tyler provides the leading role before we're too find out Taylor-Joy's Margot is the actual viewer's conduit; both are fairly obnoxious either way, lining up quite well with the other guests; Janet McTeer's snobby food critic, John Leguizamo's conceited film star and several others with faults of their own.


As the plot simmers, the heat gradually increases—spatters of scorching oil lunging towards Fiennes' patrons. His narration and the serviced meals are competently guided, and monologues while presenting the food alongside an austere clap are as engrossing as they are menacing. Like an onion, there are several layers, exploring each guest's background and reason for dining at Slowik's Island on this night. While even slightly more observant viewers would have a clear idea of aspects later explained, Mylod's timing is near impeccable and undoubtedly his best work.

Much like how Mylod, Reiss and Tracy portray elite restaurants and the culture around them, their film can be as pretentious as the content within. But, as a multi-course dish progressively coming together, final plating seems to miss just a sprig of rosemary. Truly impressive in slightly misguiding the viewer and granting most of the company an enthralling character arc.
---
Verdict
Within the selection, there's something on this menu for everyone.
8,5