Review
The Pale Blue Eye (Crime, Thriller) [Based on Novel] (2022)
Director: Scott Cooper
Writer: Scott Cooper, Louis Bayard (Based on Novel by)
Stars: Christian Bale, Harry Melling, Toby Jones, Lucy Boynton
---
As a cadet was found hanged with his body desecrated, a reclusive detective harbouring deep grief is tasked to find the suspect responsible amongst the U.S. Military Academy's trainees.

Before being released for streaming, ''The Pale Blue Eye'' by Scott Cooper, based upon Louis Bayard's novel, had been shown in limited cinemas. Centred around an 1800s military academy, it's a bleak mystery with occult elements bound to bewilder. While not directly based on actual events, ''Black Mass'' might appear strikingly similar within Cooper's catalogue. Filming occurred across Pennsylvania in the historic Compass Inn and Westminster College while being produced by Cross Creek Pictures, Streamline Global Group and Le Grisbi Productions and distributed on Netflix.

Having been retired for several years, Detective Augustus Landor (Christian Bale) is requested by the West Point United States Military Academy to investigate the hanging, presumably murder of Cadet Leroy Fry (Steven Maier). Provided with little help from most cadets fearful of vocalising their presumptions, Landor enlists ostracised cadet Poe (Harry Melling), later to be known as; famous poet Edgar Allen Poe to piece this mystery together.


Within the grim and pallid 1800s thematic ambience of Cooper's ''The Pale Blue Eye'' lies a sinister seldom-seen theatre reminiscent of darker portrayals of Sir Arthur Conan Doyle's notable fictional detective Sherlock Holmes.

Substantial attention is granted towards colour, presenting an ideal use of such tactics combined with a narrative emboldened by dour and bitter circumstances. From even the warmest environments, there's some of the dominant emotion, the affable bar lit by candles, encroaching darkness palpable only kept at bay with the candlelight, or the warm Marquis manor where perverse secrets and deviance hide.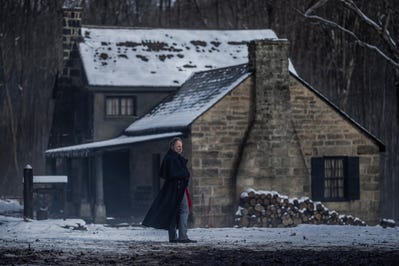 These uses of environment and colour decide much, whereas narrative doesn't always seize the moment. It's a morose and timid script brought forth by Bale's temperate, muted attitude, once again using contrast and counterbalance in Melling's Poe who's sullen yet earnest, delighted flames surfacing whenever an enigma is broken—Once more a comparison to Sherlock and his compatriot Watson.

Such as ''The Pale Blue Eye'' astonishes me, grim tones emboldened within a relatively straightforward story, despite that managing to surprise even the wittiest of armchair detectives. Yet, over-complicating itself in ways and relying on extremes to make a thudding impact cushioned by the packed snow. Had the viewer been granted the opportunity for more direct observations, the narrative could have taken on a different direction. Cooper's Bayard adaptation is impressively close to its desired outcome. The film is both dark and realistic, with striking visuals and a captivating cast that delivers stellar performances all around.
---
Verdict
Anything would pale in comparison.
8,0