Review
The Sea Beast (Animation, Adventure) (2022)


Director: Chris Williams
Writer: Chris Williams, Nell Benjamin, Mattson Tomlin
Stars: Karl Urban, Jared Harris, Zaris-Angel Hator, Marianne Jean-Baptiste
---
On the hunt for a legendary sea beast, the crew of a renowned ship called: Inevitable; discovers a young girl who has stowed away on their vessel. She convinces them to let her stay, and the quest to hunt a sea monster called the Red Bluster continues.

Debuting at the Annecy International Animation Film Festival with a limited theatrical release, ''The Sea Beast'' has been written and directed by Chris Williams, who's also been involved with Disney's ''Moana'', ''Bolt'' and ''Frozen'' to name a few. Sony Pictures Imageworks have done animation, and the film was produced by Netflix Animation, a subsidiary studio to Netflix, who also distributed the movie on their streaming service.

For hundreds of years, giant sea monsters have wreaked havoc against the kingdom. In a counter-effort, crews of seasoned hunters travel the sea to find and pursue these fabled creatures. Captain Crowe mans perhaps the most famous of these hunting parties and has been chasing the Red Bluster. On their latest voyage, they accidentally bring along a stowaway, who convinces them she can stay around; thus, the quest to hunt the Red Bluster continues and a grand adventure ensues.


Ahead of present times, we see a young orphan delighting in tales of mighty ships and rugged seamen waging rough seas and hunting sea beasts, setting up later events for the film before transferring to Captain Crow and his seafaring bunch. Unlike other animated films, this film is seemingly inspired by the 1600s, which would be tricky, seeing the villainy, violence and debauchery going on in such times, yet, it is transformed into an imaginative fantasy scenario and a mish-mash of ''Godzilla'', ''Monster Hunter'', ''Pacific Rim'' and any other Kaiju movies that will remain unmentioned.
We're treated to voices by Karl Urban and Jared Harris, who still feel underrated even though they really shouldn't be, Urban is most recently known for ''The Boys'', with Harris appearing in the HBO mini-series ''Chernobyl''. Their characters of Jacob and Captain Crow inhabit a detailed, colourful world with some almost shockingly realistic water, sand and other textures. It's a vibrancy to attract younger audiences, but for adults interested in VFX, you have to be pleasantly surprised.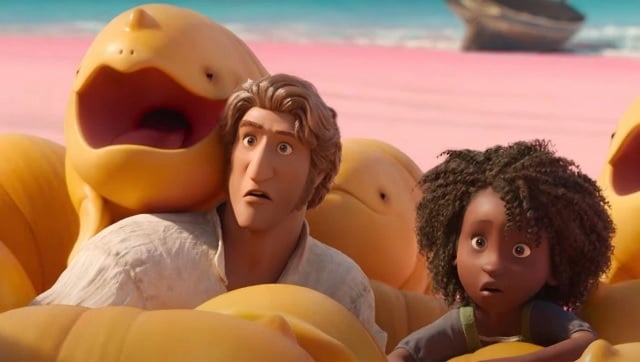 In terms of narrative, it isn't meant to shock. The relatively straightforward journey, however, turns into an unlikely friendship with some deeper meaning, as is usual in animated films. It fits together despite some characters becoming too much like stereotypes and worldbuilding being light.

When ''The Sea Beast'' released on Netflix, expectations weren't high. Chris Williams changed that, and his experience on Disney projects allows a genuinely solid animation film to be created outside the Walt Disney umbrella.
---
Verdict
A positively monstrous film!
8,0