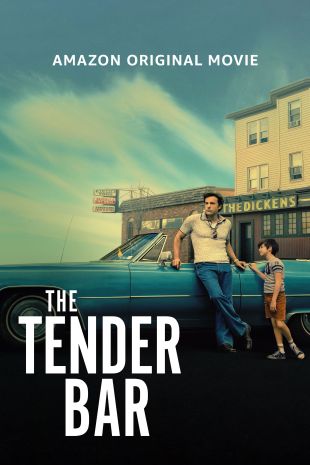 Review
The Tender Bar (Drama) [Based on Memoir] (2021)
Director: George Clooney
Writer: William Monahan, J.R. Moehringer (Based on Memoir by)
Stars: Ben Affleck, Tye Sheridan, Lily Rabe, Daniel Ranieri
---
Being abandoned by his father, young J.R. (Daniel Ranieri/Tye Sheridan) lives alongside his mother Dorothy (Lily Rabe) in his grandfather's house. Without any father figure, J.R. has his uncle Charlie (Ben Affleck) to fill that role for him; he owns a bar called the Dickens, named after famous writer Charles Dickens and so young J.R. becomes inspired to become one too.

Based on J.R. Moehringer's early life, ''The Tender Bar'' shows the journey of a child in the lower social classes trying to study at Yale as his mother always wanted, and with the drive his uncle implanted within him, it might just work. Initially planned to develop under Sony Pictures and Chernin Entertainment, with Ted Melfi as director/writer, the project was halted as Melfi stepped out. Much later, actor/director George Clooney was set to direct, and the rest became history. ''The Tender Bar'' has been produced by Amazon Studios, Smokehouse Pictures and Grand Illusion Films while also distributed by Amazon on their streaming service Amazon Prime.


With his father out of the picture and infatuated with his uncle Charlie, the life of young J.R. unfolds. Encouraged to read and urged to study his path is laid out, learning life lessons, dating, studying and struggling to get that first job, we see J.R. go from a child to a man in a coming-of-age tale inspired by J.R. Moehringer's life.
Presenting a 1970's lower-class neighbourhood, Clooney manages to correctly capture a sense of wonder and hopelessness at the same time. However, ''The Tender Bar'' transforms into something much more common in coming-of-age stories, which is far more positive than visually presented. Clichés are unavoidable in the scratchy past of this bright-eyed teenager.


As it moves forward, it stands out less and less. Only the cinematography seems appealing at this point. This memoir turned film has an excruciating time finding its voice instead of narratively becoming something we've seen many times in other formats. Something noticeable was the use of flash-forwards too; as we follow Ranieri's J.R., peeks are shown of Sheridan's older version on his commute to Yale with narration by Ron Livingston presenting an adult J.R. but solely as a narrator making little sense, if any.

As far as my opinion stretches, it can be an enjoyable film, even if we've seen it before in different ways. Clooney, directing other films like ''Ides of March'' and ''The Midnight Sky'' shows just enough to gauge interest but never quite captures the greatness that seems to be on the horizon. It's a running theme at this point, and I hope we get to see it. Casting Affleck and rising star Sheridan were just not enough due to the bland narrative in this case.
---
Verdict
A tender showing of Clooney's directorial ambitions.
6,0