Review
The Tomorrow War (Action, Adventure, Sci-Fi) (2021)
Director: Chris McKay
Writer: Zach Dean
Stars: Chris Pratt, Yvonne Strahovski, J.K. Simmons, Edwin Hodge
---
In the near future, the world is shocked by the sudden emergence of soldiers from the year 2051. They inform the past generation that humankind is in grave danger and nearing extinction. As the people from the past are their only hope, they conscript as many as they can to fight back against the alien menace they call ''Whitespikes'' to make sure what happened in the future won't ever happen in the past.
Distributed by Amazon, being acquired from Paramount Pictures after the Covid-19 pandemic. It is helmed by Director Chris McKay, best known for ''The Lego Batman Movie'' and its upcoming sequel. The script was written by Zach Dean, who's quite experienced with sci-fi and action-thrillers.
Bursting with over-the-top excitement and action, ''The Tomorrow War'' doesn't waste any time boasting with its aesthetic value and surprising with an outrageous plot. Where narratively it's nothing to be amazed by, ranking just above most Kaiju movies in believability, it does what it needs to as far as visuals are concerned. The CGI companies did a stellar job bringing Ken Barthelmey's alien designs to life.
I'm certainly not kidding when saying; don't expect a lot from the narrative. Chris Pratt's character Dan Forester starts as the typecast we're used to from most of Pratt's films but progresses towards a more serious and balanced individual later in the movie. While the story itself is engaging enough, creating a common thread tying things together, it's not the focus needed for the viewer and is best left mostly dismissed. Most of the far-fetched storyline is centred solely on Pratt's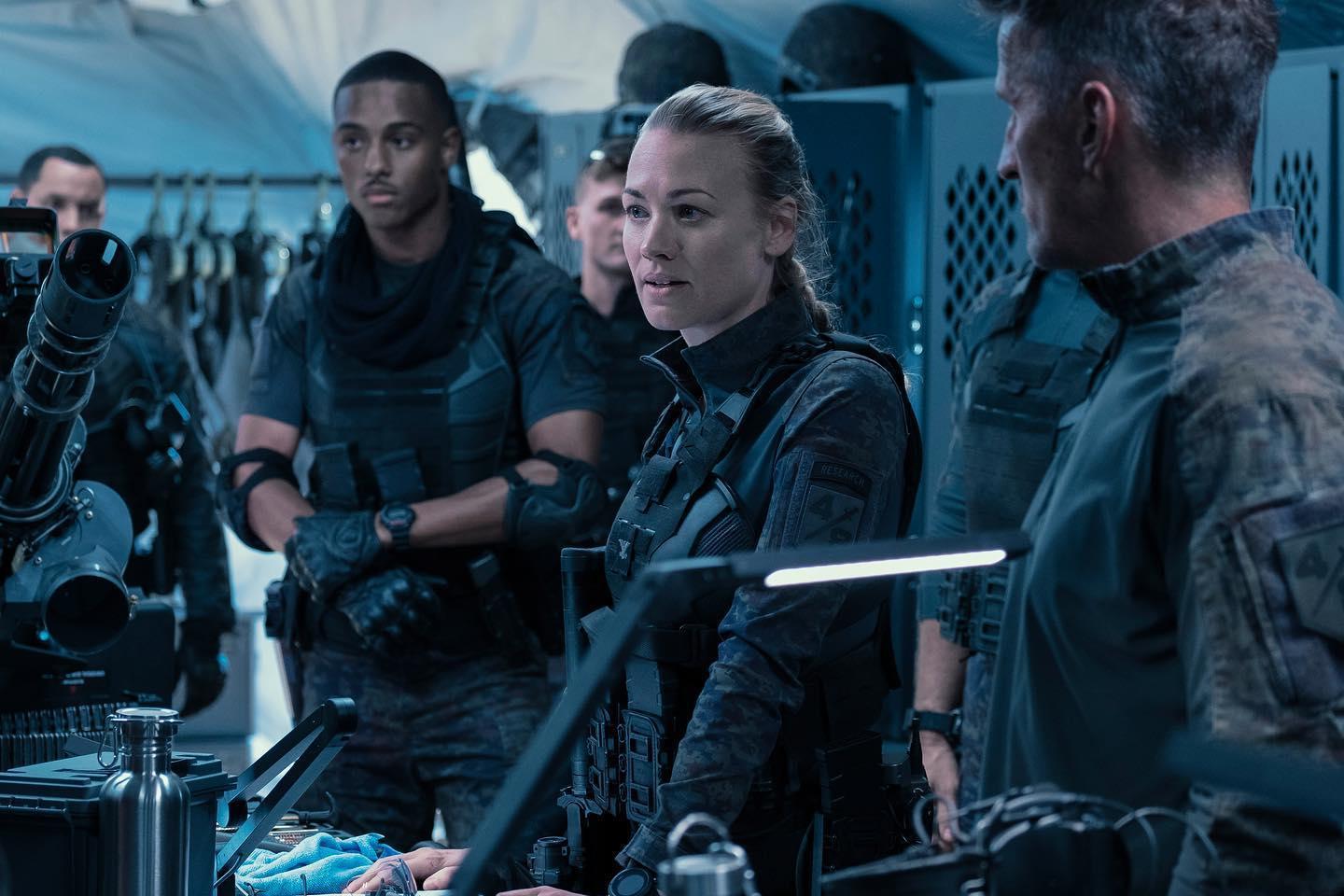 character and his experience within the nightmarish future in. picturing a very protagonist driven narrative, aspects such as the aliens appearing to be indestructible hulking monsters, taking the lives of everyone around Forester with him appearing to have some script-driven shield around himself doesn't help matters much. Apart from Forester, some supporting characters take some of the attention away from the lead, but it's never quite enough. 
Development, gunplay, and the effects are decent, but the CGI visuals are what benefits the film most; the fiendish creatures look incredible in the grandiose sets pictured in the movie, even with a generally cringeworthy plot ''The Tomorrow War'' can still be wildly entertaining due to everything around its story.
If nothing else, it's exciting to see a different Sci-Fi flick close to such films as ''Edge of Tomorrow'' and ''War of the Worlds''. Original content not based on books, novels or any other sort of pre-established content is rare nowadays, and ''The Tomorrow War'' still manages to fit in a particular genre of film.
---
Verdict
Tomorrow's War, yesterday's memory.
7,8