Review
Unhinged (Action, Thriller) (2020)
Director: Derrick Borte
Writer: Carl Ellsworth
Stars: Russell Crowe, Caren Pistorius, Gabriel Bateman, Jimmi Simpson
---
Sometimes life seems to turn against you, and that's certainly the case for Russell Crowe's character in Unhinged. The loss of his job and messy divorce with his ex-wife push him over the edge, this leads to an unfortunate meeting at an intersection with Rachel (Caren Pistorius) and her son Kyle (Gabriel Bateman) who quickly become the new focus for his hostile intent.
After Rachel overslept before her appointment with her biggest client, she rushes to get her son to school and be in time to meet with her client. Thinking she's in enough trouble as it is, becoming increasingly impatient with the heavy traffic in her city, she lands in a pressure cooker she wasn't prepared for as the man she just angered intends to turn a bad dream into a nightmare.
Almost like a social commentary Unhinged confronts us with the public's obsession of social media and the precedence we give our own lives over others. Crowe's character takes exception to this and confronts those who crossed the line in his opinion, those who are unable to show someone some common courtesy being too pre-occupied with their own issues.
Slated as an action/thriller Unhinged almost seems to be a realistic horror, a portrayal that one man can be just as scary if not scarier than any famous horror movie icon. The unbridled anger that Russell Crowe playing ''The Man' or Tom Cooper as calls himself at some point is downright horrifying. In his attempts to make Rachel's life a living hell he doesn't only show the worst type of road rage but picks off Rachel's friends and family in a horrifying cat and mouse game.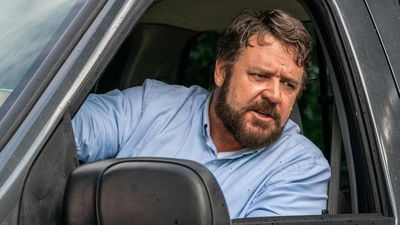 Although the camera work wasn't extraordinary, responses and character actions sometimes illogical and the special effects while done very well we're mostly overdramatic the way Unhinged sets itself up asking more in-depth questions about us as a society in a most brutal and horrifying coating, I applaud the director for taking something seemingly one-sided and straightforward and turning it into what this movie turns out to be.
It's easy to see Crowe's character as a horrible person but more prevalent to me was the excellent portrayal of the other characters in the film as well, even those with brief screen time. The self-enveloped nature that is eerily realistic being overly-focused on our own lives and problems not wanting to be kind to one another, simply not caring.
---
Verdict
The effects might be over the top, and it might be difficult to support any of the characters with their skewed morals truly, yet still, my jaw was unhinged for most of the movie.
8,0