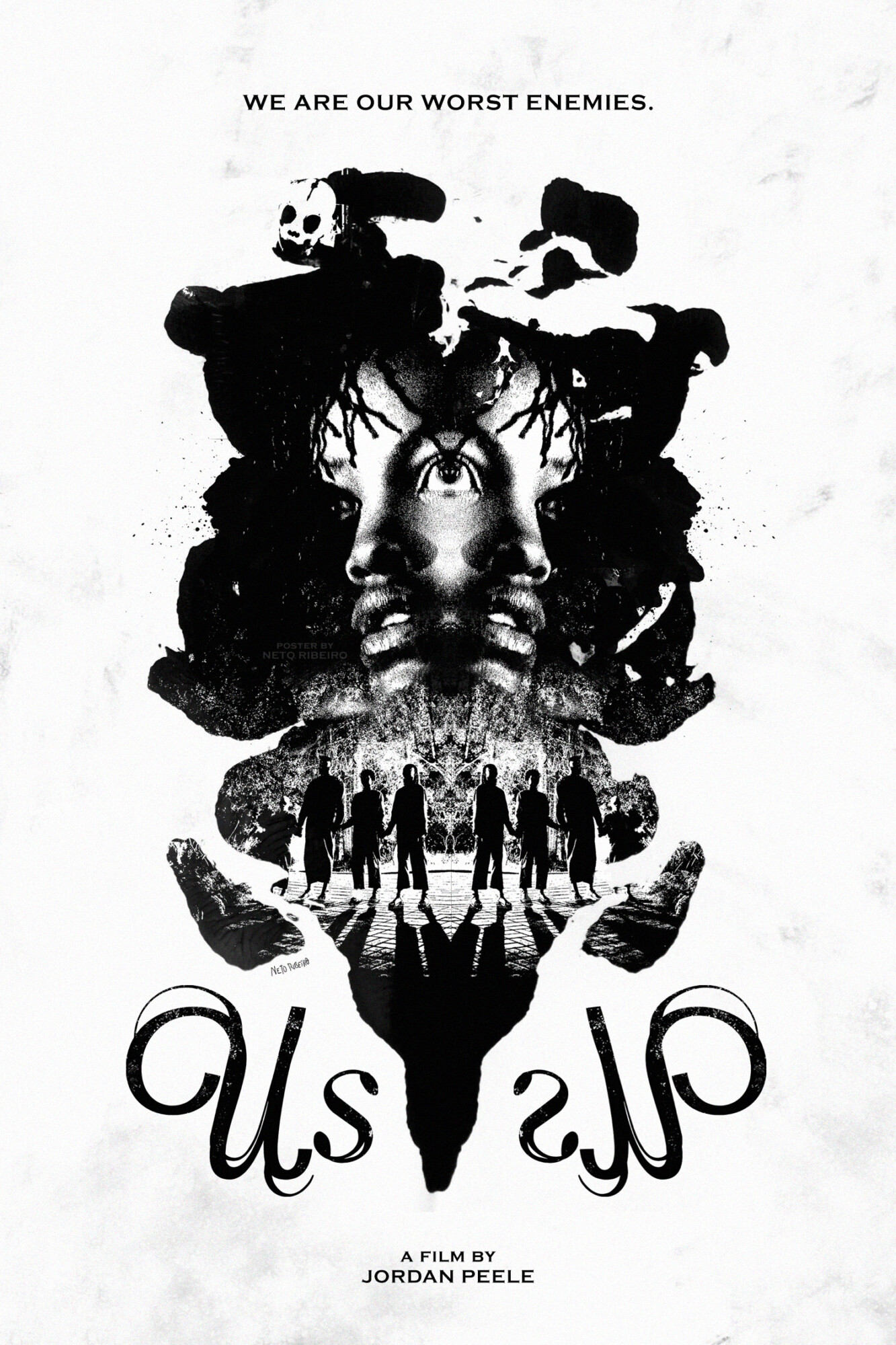 Review
Us (Horror, Thriller) (2019)
Director: Jordan Peele
Writer: Jordan Peele
Stars: Lupita Nyong'o, Winston Duke, Shahadi Wright Joseph, Evan Alex
---
What was meant to be a relaxing vacation turns into a nightmare, as the Wilson family is tormented by another family suddenly appearing on their driveway, and they look just like them.

As his second feature film, one-half of the comedy duo Key & Peele in Jordan Peele takes another jab at the horror genre, this time seemingly intending more of a classic genre picture. ''Us'' was primarily filmed in Los Angeles using the Santa Cruz Beach Boardwalk as an essential location. The film has been produced by Blumhouse Productions, Perfect World Pictures, and Monkeypaw Productions while being distributed by Universal Pictures.

Years before the actual events of the film, a young girl named Adelaide visits the Santa Cruz Beach Boardwalk. Walking out from under the supervision of her inattentive father, she enters a house of mirrors, getting lost and shocked as she runs into a doppelgänger of herself, traumatised for life. As an adult Adelaide (Lupita Nyong'o) takes the same trip, this time with her husband and family; unhappy with the trip already, things get worse as suddenly a family of doppelgängers appear to make their outing a living hell.


As presented, ''Us'' initially feels like a classic single-location horror flick, despite opening on the boardwalk fairgrounds. Unfolding without much delay, the family of shadows appear; clones of the Wilsons, the tension tightens up, and you'd assume the rest is semi-standard creepy goodness unless you're familiar with Peele's ''Get Out''. It feels like a heavily financed horror movie, from the cinematography to the acting to the soundtrack and mostly everything else.


Besides the extraordinary tension and more or less unique premise, Jordan Peele shines due to his eye for foreshadowing. Before anything happens, we see little elements of what is to come. Just like ''Get Out'' we're quickly introduced to a past incident being tied to the rest of the film, but he takes this one extra step in ''Us'' lacing it with implication. Eerie, tense, creepy, and still capturing an entertainment factor most films in the genre don't secure for someone who's not fond of horror.

Whereas horror movies usually do have their own pre-created lore, subjected to the viewer in different forms, ''Us'' lifts the curtain only a tad and carries you through the backstory much like a pure thriller would and proves, despite shying away from it cross-genre elements is still most apparent in this piece. The several enticing locations enhance the aspects of horror and the narrative itself.

Travelling to the vacation home and spending some time there, foreshadowing and all, the thriller elements take the front seat. As it develops and the shadows appear, the actual horror takes charge, and lastly, after each family member has confronted their literal demons, they drive away from the house, where the film transforms into more of a slasher flick.
---
Verdict
Certainly enjoyed by us!
8,2