Review
We Have a Ghost (Family, Comedy) [Based on Short Story] (2023)
Director: Christopher Landon
Writer: Christopher Landon, Geoff Manaugh [Based on Short Story by]
Stars: Jahi Di'Allo Winston, David Harbour, Anthony Mackie, Isabella Russo
---
Moving into a house rumoured to be haunted, the family's youngest discovers a ghost haunting the attic, which he films. Once his brother and father find out, they post the video online, quickly gathering attention throughout the country while attracting the CIA, which is keen to capture it.

Known for writing several films in the ''Paranormal Activity'' franchise and having directed multiple comedy horror movies, Christopher Landon's latest feature sees an unsuspecting family purchase a large home only to discover a ghost named Ernest in the attic. It is based on a short story by Geoff Manaugh and was filmed in Donaldsonville, New Orleans, and Ascension Parish in Louisiana. ''We Have a Ghost'' has been produced by Temple Hill Entertainment and Halsted Pictures while being distributed by Netflix.

As the Presleys purchase a sizeable home, their son Kevin (Jahi Di'Allo Winston) finds a ghost which he names Ernest since that's the name printed on his shirt. Having filmed his encounter, it doesn't take long for his brother Fulton (Niles Fitch) to find out who spills the beans to their father Frank (Anthony Mackie), creating a Youtube channel hoping to become internet-famous. As it amasses views, opinion is divided, some thinking it fake, with others wholly convinced, including Dr. Leslie Monroe, a writer who secretly works for the CIA and hopes to capture it for her boss to study.


Discovering something within your home, an entity, or ghost can be tempting to share with the world in hopes of internet fame. We've seen it for years, whether aliens, sasquatches or mythical creatures like the Loch Ness monster or Chupacabra. Usually depicted to scare us, ''We Have a Ghost'' presents more-so like ''Casper'' joining a teenager trying to help this ghost move on.

Obviously, ''We Have a Ghost'' isn't much of a horror. However, it delivers us a trip down memory lane, reminiscent of a film from the 80s or 90s. It is a delightful combination of family adventure and Comedy, as is Landon's niche. Such a film, sadly, quickly falls between the cracks seeming like an all-too-common money grab. ''We Have a Ghost'' is certainly proving not to be that. If David Harbour's speechless role as Ernest the Ghost wasn't enough, Anthony Mackie, Tig Notaro, or even Jennifer Coolidge might attract your peepers.

Inspirations behind the narrative, while based on a short story, are pretty recognisable, ''Casper'' already having been named, ''Ghostbusters'' is also an apparent reference, and it even features a playful appearance of a particularly famous Patrick Swayze film. Adding to it all is a soundtrack featuring a multitude of Classics such as Alice Cooper's ''No More Mr. Nice Guy'' and Deep Purple's ''Highway Star'' also hiring Bear McCreary as its composer. If that's not enough to convince it's far more than another Netflix original, I don't know what would be.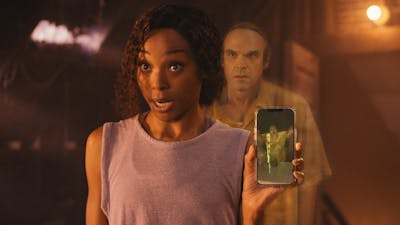 Shouldered primarily by Winston and Harbour, introducing Russo's Joy as the humble love interest, Landon's adaptation of Manaugh's story isn't stellar. It provides moments of fun and an enjoyable experience without quite piecing it all together. Harbour's performance should be praised, as most would have passed up a voiceless role, as he almost might've. ''We Have a Ghost'' isn't a film for young children, but certainly enjoyable for ages 12-14 and above. It's not a film made to blow viewers away, but it's engaging and fun with some family film potholes, such as the CIA antagonist in Steve Coulter's Arnold Schipley.

So, it's best described as a joyous surprise, a kinder egg in movie form. The young castings combined with seasoned faces like Mackie and Harbour provide enough, further polished with some purposeful CGI and expedient transitions and editing. Comedy with the slightest specks of horror due to the subject matter, Netflix provides an amusing ride that I'd recommend you don't skip if you're up for a light-hearted, slightly edgy family flick.
---
Verdict
I want a ghost too!
7,7